The blog is where we'll post news, updates, information about objects in our collection, #betterworkstories, profiles of staff members and visitors, pictures and videos, and really anything we think you'd find interesting. We hope you enjoy. 
If there's a topic you'd like us to do a post about, or a post that you think needs a sequel, just let us know!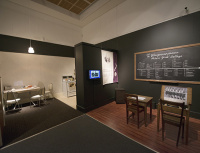 Otago Museum's Hākui: Women of Kāi Tahu exhibition has been announced as a finalist in the Ngā Aho category of the Best Design Awards. The exhibition, which closed in May, shared the stories, achievements and legacies of respected Kāi Tahu wāhine – as seen from the perspective of kā uri whakatipu, today's generations – through objects, photographs and memories. Interactive elements also featured, inviting visitors to step inside Aunty's kitchen, hear the pronunciation of te reo Māori words and placenames, plait kāwai kete (kete handles), listen to interviews and waiata, share memories of the women in their own lives, and plenty more. The...
About
Our blog aims to keep you informed of the latest happenings at the Otago Museum, through posts about our collections, our people and our work.
Disclaimer
The views expressed here are those of our individual contributors, and are not the views of the Otago Museum.
Copyright
All content of this blog is Copyright Otago Museum, 2017. All rights reserved. No part of this publication may be reproduced, distributed, or transmitted in any form or by any means, without the prior written permission of the Otago Museum, except for the purposes of private study, research, criticism, review, or education, as provided for in the New Zealand Copyright Act 1994.