The blog is where we'll post news, updates, information about objects in our collection, #betterworkstories, profiles of staff members and visitors, pictures and videos, and really anything we think you'd find interesting. We hope you enjoy. 
If there's a topic you'd like us to do a post about, or a post that you think needs a sequel, just let us know!

With the 2018 Otago Wildlife Photography Exhibition closing this Sunday, the time has come to announce the winner of this year's People's Choice Award. Museum visitors and photography fans submitted over 2800 votes this year, which resulted in the first ever tie for first place. Carolena Booth, who captured Skateboarder Basil, and Jemma Bezuidenhout with her entry Flying Pup, will take home canvas prints of their photos, created by Jonathan's Photo Warehouse. Both winners were entrants in the Pet – 14 years and under category. With an ever increasing number of entries, both photographic (2332) and video (53), the Otago Wildlife Photography Competition...
Spending time on the mudflats around Aramoana over the summer led to a unique find for Associate Professor Steve Kerr, a neurotoxicologist at the University of Otago.
Combine an iconic Dunedin band, an award-winning documentary company, and a group of Otago Polytechnic Communication Design students, and you have the makings of a unique exhibition opening at Otago Museum on Saturday 23 June.
The most engaging, visionary, resourceful and innovative exhibitions, programmes and museum projects were celebrated this evening with a gala at event at Christchurch Art Gallery.
Lab in a Box is a fully equipped, mobile research lab designed to engage and enthuse New Zealanders about science. Conceived by University of Otago's Professor Peter Dearden, the portable research lab within a 20ft shipping container has hosted over 300 sessions across 52 schools since late 2015.
Otago Museum's 19th annual Otago Wildlife Photography Competition draws to a close this month, with entries closing at midday on Friday 23 February 2018.
Amateur photographers and videographers from around Otago are encouraged to enter their best Plant, Animal, Pets, Night Skies or Human Impact on the Environment shots, or videos of Wildlife in Action. They will be in to win great prizes and the chance to feature in the Museum's 2018 Otago Wildlife Photography Exhibition.
Kids love playing and this is play with a difference! A playground of science-themed fun is launching this weekend on the Museum Reserve.  The 'Kia Rapua' Science Playground is designed to encourage children's natural curiosity and sense of exploration. Aimed at children between three and seven years old, it introduces the concepts of sound, colour, textures, ramps and building – all through hands-on play.
The free playground will be open to the public only on Saturday 27 and Sunday 28 January on the Museum Reserve from 11am until 4pm.
A leopard seal pup which was born and died at St Kilda Beach, Dunedin , on 26 September 2017, is about to be taxidermied and eventually put on display at Otago Museum.
Peter Wells, who has been contracted to undertake the work, is one of New Zealand's leading bird and fish taxidermists. Wells is visiting from Blenheim to complete the initial preparation work, and will then return to his workshop where, the seal pup's skin will be tanned, treated and fitted to a custom-made mount to complete the taxidermy.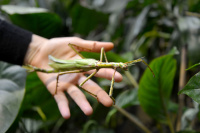 After four years of planning and five months of construction, Tūhura Otago Community Trust Science Centre is nearing completion, with the doors set to open to the public on Saturday 16 December at 10am.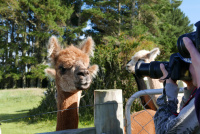 The 19th annual Otago Wildlife Photography Competition opens for entries from Otago residents on Monday 13 November 2017.
Open to all amateur photographers and videographers living in Otago, the 2018 competition is once again open for submissions across Animal, Plant, Human Impact on the Environment, Pets, and Night Skies photo categories, as well as the Wildlife in Action video category.
Supported by Jonathan's Photo Warehouse, Canon, and the Otago Daily Times, the competition is a stage to showcase your creative talent behind the lens as you explore the natural world.
The overall photography winner will receive a Canon EOS 77D 18-135 kit, worth $2,299, with the individual photography category winners and highly commended entries being awarded vouchers from Jonathan's Photo Warehouse. The video category winner will receive a GoPro camera.
About
Our blog aims to keep you informed of the latest happenings at the Otago Museum, through posts about our collections, our people and our work.
Disclaimer
The views expressed here are those of our individual contributors, and are not the views of the Otago Museum.
Copyright
All content of this blog is Copyright Otago Museum, 2017. All rights reserved. No part of this publication may be reproduced, distributed, or transmitted in any form or by any means, without the prior written permission of the Otago Museum, except for the purposes of private study, research, criticism, review, or education, as provided for in the New Zealand Copyright Act 1994.