The blog is where we'll post news, updates, information about objects in our collection, #betterworkstories, profiles of staff members and visitors, pictures and videos, and really anything we think you'd find interesting. We hope you enjoy. 
If there's a topic you'd like us to do a post about, or a post that you think needs a sequel, just let us know!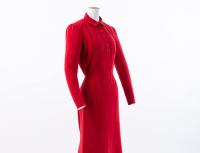 A fine example of haute couture can be found in the rarest category of est. 1868. Honorary Curator Jane Malthus explains how a 1948 Balmain dress ended up in the Otago Museum collection.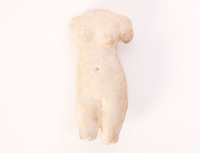 She's been a symbol of love and beauty for many thousands of years. Honorary Curator Robert Hannah takes a deeper look at the story behind Aphrodite's nude form.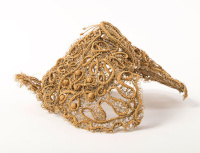 Petite hats were the height of fashion in the 1870s. Honorary Curator Jane Malthus takes a closer look at the 19th century trend for tiny headpieces.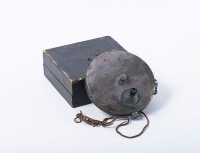 Designed to fit beneath a waistcoat, with only the lens showing through a buttonhole, this small-for-its-time camera provoked some interesting reactions when it launched in the 1880s.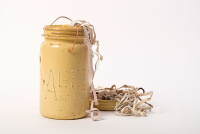 Why does a preserving jar filled with elastic appear in the quirkiest category of est. 1868? Honorary Curator Jane Malthus explains.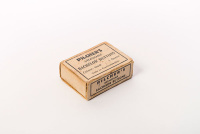 What stories are hidden inside this tiny box, currently on display in est. 1868? Curator Moira White takes a peek. 
Life before Dinosaurs: Permian Monsters closes 25 February 2018. Here Marketing Assistant Louis Graham explores the meaning behind the name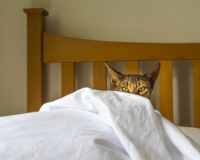 As Otago Museum's 2017 Otago Wildlife Photography Exhibition wraps up this month, visitors to the exhibition are being asked to vote in the 'People's Choice Award' before Monday 17 July.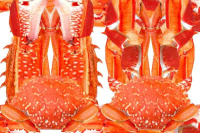 In Otago Museum's latest exhibition, Current, nine contemporary artists and designers were invited to create a new work of art inspired by an object from the Museum's diverse dress and textile collection. Fashion designer Max Mollison selected a 1950s beaded cocktail hat as the starting point for his crab-inspired fashion feast, Keep your filthy paws off my silky claws.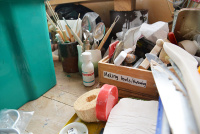 Our latest exhibition, Current, features nine creatives and their works inspired by items in the Museum's textile collection. In a series of blog interviews we introduce the artists.
About
Our blog aims to keep you informed of the latest happenings at the Otago Museum, through posts about our collections, our people and our work.
Disclaimer
The views expressed here are those of our individual contributors, and are not the views of the Otago Museum.
Copyright
All content of this blog is Copyright Otago Museum, 2017. All rights reserved. No part of this publication may be reproduced, distributed, or transmitted in any form or by any means, without the prior written permission of the Otago Museum, except for the purposes of private study, research, criticism, review, or education, as provided for in the New Zealand Copyright Act 1994.