The blog is where we'll post news, updates, information about objects in our collection, #betterworkstories, profiles of staff members and visitors, pictures and videos, and really anything we think you'd find interesting. We hope you enjoy. 
If there's a topic you'd like us to do a post about, or a post that you think needs a sequel, just let us know!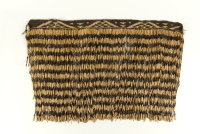 Toitū Otago Settlers Museum and the Otago Museum have recently been gifted a piupiu, a waist garment made from processed harakeke (flax), believed to be over 165 years old and one of the earliest examples of traditional Māori costume in Otago. The piupiu was initially donated to Toitū OSM by Jenny Morgan, great-granddaughter of Ralph Nicholson, who came to Otago on the 'Titan' in 1851. Nicholson worked for a time in Dunedin as a chemist before relocating to Tasmania in 1852, returning back to Otago in 1863. He was employed at the Mosgiel Woollen Company as an accountant and first secretary...
About
Our blog aims to keep you informed of the latest happenings at the Otago Museum, through posts about our collections, our people and our work.
Disclaimer
The views expressed here are those of our individual contributors, and are not the views of the Otago Museum.
Copyright
All content of this blog is Copyright Otago Museum, 2017. All rights reserved. No part of this publication may be reproduced, distributed, or transmitted in any form or by any means, without the prior written permission of the Otago Museum, except for the purposes of private study, research, criticism, review, or education, as provided for in the New Zealand Copyright Act 1994.