The blog is where we'll post news, updates, information about objects in our collection, #betterworkstories, profiles of staff members and visitors, pictures and videos, and really anything we think you'd find interesting. We hope you enjoy. 
If there's a topic you'd like us to do a post about, or a post that you think needs a sequel, just let us know!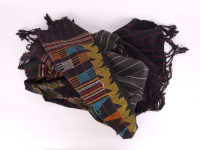 We've got a new display opening in the People of the World gallery on 7 February. 
The yellow-eyed penguin, thought to be one of the world's rarest penguins, has a dedicated advocate – the Yellow-eyed Penguin Trust (YEPT) – committed to saving this endangered species. The Otago Museum and Otago Regional Council jointly support the YEPT and the work of Dr Trudi Webster in her role as Conservation Science Advisor.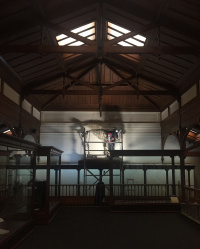 We're halfway through our Animal Attic Project, and the Conservation team, with the help of our Facilities and Natural Science collection colleagues, have been busily beavering away. The gallery has been emptied of specimens, except for our Asian elephant skeleton which stayed put. After a good clean, it has kept us company while we work in the eerily empty gallery.
If you've wondered why a woman has been wandering our galleries, holding a small device up to the lights, this post is for you.
A very (very) abridged list of the conservation quandaries that arise when tackling textiles.
Conservation tackles a crab who has suffered some inadvertent amputations.
I was recently asked to look at the storage of a pair of boots in our European Textile Store.
About
Our blog aims to keep you informed of the latest happenings at the Otago Museum, through posts about our collections, our people and our work.
Disclaimer
The views expressed here are those of our individual contributors, and are not the views of the Otago Museum.
Copyright
All content of this blog is Copyright Otago Museum, 2017. All rights reserved. No part of this publication may be reproduced, distributed, or transmitted in any form or by any means, without the prior written permission of the Otago Museum, except for the purposes of private study, research, criticism, review, or education, as provided for in the New Zealand Copyright Act 1994.