Southern ceramic spotlight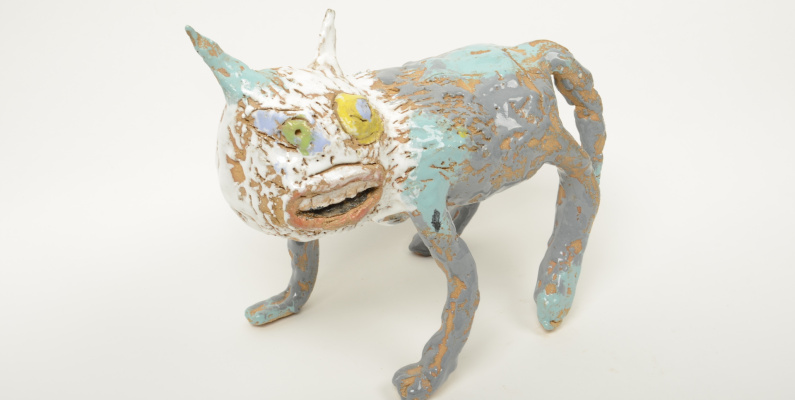 In with the new! We have shifted the median date of the pottery on display in our Southern Land Southern People gallery into the 20th century! The wonderful work made by craftspeople at Milton Potteries and the Benhar factory is still on show, but now we've added some fabulous Otago-centred studio ceramics to the mix: Madeleine Child, Lawrence Ewing, Jim Cooper, Trevor Lewis and O C Stephens. 

Dish made by O C Stephens; painted by Grete Graetzer.  F90.78. Otago Museum Collection
One small dish combines the work of two artists. It was made by O C Stephens but painted by Margarete (Grete) Graetzer (1901 – 1968). Grete studied at the Vienna School of Fine Arts and married Georg Graetzer, a medical practitioner, in 1934. The Graetzers lived in Vienna until German troops entered Austria in 1938, when they left the country. In late 1939, Dr Graetzer was appointed to the New Zealand Presbyterian Mission Hospital at Kong Chuen, in China, and worked there through World War II. After the war the Graetzers lived in Canton. Needing to leave China following Liberation, however, they moved again – to New Zealand. Both spent the rest of their lives here.
Grete seems to have painted, drawn and sketched the world around her during their years in China, and to have been inspired by those years later in life as well, as this dish shows. The Hocken Collections and the Dunedin Public Art Gallery both hold a number of her artworks. She was clearly well integrated among Dunedin's artistic communities. When she died she left her cameras and slide projector to the Otago Art Society; her art books, painting and pottery materials to the School of Art, Otago Polytechnic; and her tape recorder to the Department of Music, University of Otago. 
Earthenware bowl by O C Stephens. F58.9. Otago Museum Collection.
Oswold Counsell Stephens (1896 – 1980) was born in Dunedin and gained his MSc with first-class honours in organic chemistry from the University of Otago in 1923. From 1933 to 1961 he taught at King Edward Technical College. In the 1930s he set up a ceramic workshop at his home and in the following decades produced both slip-cast and one-off ceramics that are now highly collectable. He also fired work for other potters, and published many of his more than 2000 glaze recipes. [i] Stephens was a founding member of the New Zealand Society of Potters, as was Grete Graetzer.  A steady stream of gifted clay artists working in the second half of the 20th century and into the 21st firmly consolidated Otago's long tradition of ceramic distinction.
Cat sculpture by Jim Cooper. F2008.38. Gift of the Association of Friends of the Otago Museum; Otago Museum Collection. 
Bowl by Lawrence Ewing. F2014.76. Ralph Hotere Ceramics Collection. Fairweather Fund; Otago Museum Collection. 
'Rain Cloud Over Rock and Pillar Range' by Madeleine Child. F2013.30. Fairweather Fund; Otago Museum Collection.
---
[i] Coolahan, K. 2000. 'Stephens, Oswold Counsell' in Dictionary of New Zealand Biography Volume 5