'Probably going [to] Auckland for bird studies' – Lily Daff writes to H D Skinner
home
>
Otago Museum Blog
>
'Probably going [to] Auckland for bird studies' – Lily Daff writes to H D Skinner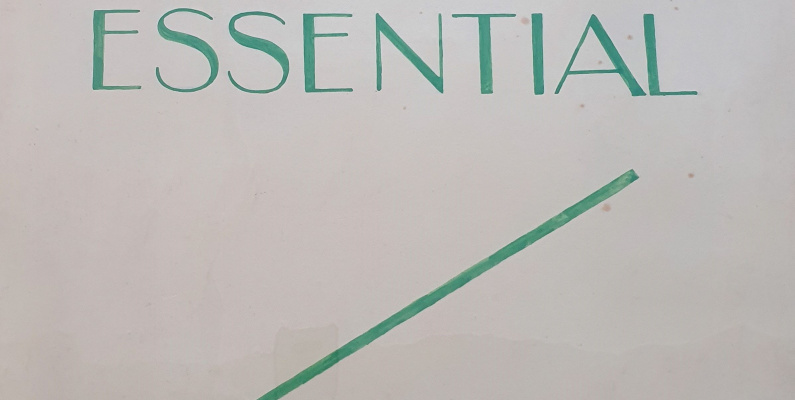 Lily Attey Daff (1885 – 1945) arrived in New Zealand in 1926. The talented London-born designer and artist first worked for the Government Publicity Department in Wellington, painting New Zealand birds and flowering plants. WRB Oliver, Director of the then Dominion Museum, commissioned her to undertake the colour plates for his 1930 book, New Zealand Birds. The New Zealand Native Bird Protection Society (NZNBPS) also commissioned her to produce artwork for their planned albums of birds, shown amidst the trees, flowers, and landscape of their respective habitats.   
In 1932,Daff travelled to Dunedin to paint the taxidermized takahē specimen in Otago Museum. That visit led to her employment at the Museum, initially a short-term appointment, then a permanent position.  
In June 1932, she telegrammed Skinner from Wellington, "Probably going Auckland for bird studies if you would like any drawings done here before I leave will you wire Lyall Bay particulars can follow".  
She was busy in Auckland for the rest of the year, and a collection of her water colours for the NZNBPS were displayed in the bird hall of the museum there over part of the 1932-33 summer. 
While she was in Auckland, communications between Daff and Skinner were maintained by letter. Daff's are hand-written; Skinner's are typed. 
In early 1933, Daff wrote:  
I returned to the Museum on Tuesday and found your letter and package awaiting me. I have already finished some of the drawings and will let you have the rest as soon as possible.  
I am forwarding the greenstone hook to New Plymouth [where Skinner was then on leave], and the ceremonial comb etc. (two packages) to you, by the same mail as this letter."   
With no more detailed descriptions of the taoka it is not possible to identify them, however, 'Amulets in the form of one-piece fish-hooks – hei-matau' (Part 6 of Skinner's Maori Amulets in Stone, Bone and Shell), was published in The Journal of the Polynesian Society in December 1933. It is tempting to speculate that the 'greenstone hook' to which Daff referred was being illustrated to appear in that paper. Either way, one obituary mentioned her hundreds of "line drawings illustrating research papers on Polynesian ethnography… published in the 'Journal of the Polynesian Society''', which it described as "undoubtedly the finest of their kind ever published in New Zealand".1 
"With regard to my plans for 1933, it appears that the society are not having the last series of birds drawn after all, but I have a fair amount of work, mostly of the speculative type, which I should like to complete before coming south, this will take until after Easter – so far as can be judged at present, I hope this will suit your arrangements. 
I am glad you had such a nice holiday – New Plymouth is pretty, and a motor trip to Mount Egmont some years ago, made me want to visit both places again."  
Skinner replied to Daff at the Auckland War Memorial Museum: 
"I am glad to get your note of the 3rd, and the two pieces which you had drawn. I look forward to receiving the drawings. Please enclose your account. I am sorry the Bird Protection Society are not having the last series of birds drawn, though I am glad this will enable you to be here after Easter. I am sorry that you are not here for late summer and autumn – beautiful seasons in this part of the world. However, early winter is usually a beautiful season, too." 2 
Later that month he wrote again: 
Would you be good enough to bring down with you a rough sketch of the case in which those Stone Age implements we discussed are exhibited. I would like a note of the vertical height and of the depth, and also of the height on the wall at which the case is fixed." 
Daff's reply said that she had "asked permission of Mr. Archey to make the sketch of the "History of Mankind" case, which he very kindly gave.  
There is much more in it than anticipated but I have made a rough plan of the layout with measurements and labels – the latter in detail – which should be helpful.  
I had hopes of being able to complete my work here before Easter, but find it will take much longer. Would it be possible for you to allow me until about the 22nd of May? If it could be arranged I should be so grateful as it would be a big advantage to me if the drawings were finished before coming south. 
Should you, however, find it in any way inconvenient I will wait until after the completion of my six months engagement in Dunedin." 3 
The Museum's Annual Report for 1933 described Miss Daff's rearrangement of the "prehistoric material from Western Europe in a long wall-case at the head of the stairway in the upper gallery", possibly the outcome of the sketches Skinner had mentioned."In the upper part of this case are shown the fluctuations of the temperature during the Quaternary Ice Age. Below these diagrams are a series of pictures in colour at first illustrating the fauna of Western Europe and then the progress in civilisation in the same area. The lower part of the case contains a selected series from each of the industries… ending with the early Iron Age." Two full-page illustrations were included.  
Skinner must have agreed to Daff's request for a postponement of her starting date in Dunedin, as her next letter said:  
"Very many thanks for your letter of the 12th instant. 
As some of the work is to be submitted to England, etc., there will be a big saving of time while awaiting decisions on it. 
I will be in Dunedin to commence duties no later than 22nd of May." 4 
Daff did indeed commence her duties at Otago Museum on 22 May 1933, and Skinner wrote to the Registrar at the University of Otago to say so. In the Museum's Annual Report for 1933 Daff is listed as "Artist (temporary appointment)". In December of that year, Skinner contacted the Registrar again to say the Museum wished to extend Daff's contract for three more weeks, and in February 1934 the Registrar wrote to Skinner to say the Finance Committee had approved Daff's appointment (at a rate of £3 a week) for February and March 1934. In the Museum's Annual Reports for 1934 and 1935 "Miss L. Daff" is listed as "Artist", and in 1936 her title changed to "Artist in charge of Installation and Exhibition". She worked at the Museum for more than a decade, until the year of her death. The Museum's Annual Report for 1945 noted that ill health had necessitated her resignation on 31 March 1945. It continued, "Her chief talent lay in an unerringly effective use of colour, clear and dignified lettering, and strikingly beautiful sketches". In her years at the Museum, Daff painted dioramas, reorganised and decorated galleries, designed displays and posters, and produced guide-books. She was much mourned. 
The small group of letters considered here are not of monumental consequence. They do not enter into matters of global import or celebrity news. They are a small flurry of practical correspondence – exchanges between friendly colleagues; people needing to plan events while in different cities, at a time when letter writing was the primary means of keeping in contact under such circumstances. But their arrival will have been looked for; philatelists might have considered removing the stamp from the envelope; their delivery will have enabled decisions to be made and other actions considered. They were connection and communication.  
1 Daff to Skinner, 3 February 1933 
2 Skinner to Daff, 24 February 1933 
3 Daff to Skinner, 3 April 1933 
4 Daff to Skinner, 17 April 1933 
Blackman, Margery, 1998. Daff, Lily Attey (1885-1945). Southern People ed. Jane Thomson, Longacre Press; Dunedin, p. 117