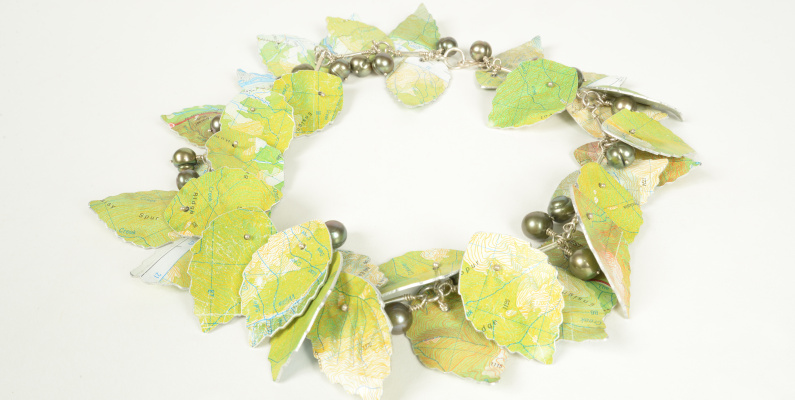 Jeweller Lynn Kelly was part of the iconic Fluxus co-operative in Dunedin for 15 years after completing a craft design course in Wanganui, before setting up her own workshop. Plants, and human interactions with them, are at the heart of much of the work she creates.  
A horticulturalist before she trained as a goldsmith, Kelly's plant lore has enabled her to translate botanical knowledge into wider contexts and contemporary narratives. She has made pieces that play with the symbolic meanings attributed to plants; at other times resource extraction provides the impetus. 
Aspects of flora and landscape – which have inspired artists for centuries – are re-examined and reinterpreted through her unique perspective. Although instantly recognizable – I spotted one of her rātā brooches on a Voyager Media Awards speaker this year, almost before I took note of which award was being announced – the pieces are seldom straightforward depictions of plants.  

Figure 1: Pohutukawabrooch by Lynn Kelly 

It is more likely that they will focus our attention on an individual element of a plant, a botanical technique, or historical representations of our natural world. She often develops specific construction techniques and material combinations to accentuate the conceptual aspect of a series of work.   

Figure 2: Poppy brooch by Lynn Kelly. Photograph by Jen Copedo

Kelly has long been an admirer of botanical drawings. Some of her output has related to the smaller elements shown around the main image in such works, such as seeds, seed pods, or side views.  

Figure 3: Rice seed pendant by Lynn Kelly. Photograph by Jen Copedo

Her 2009 'Specimen' show started with a 2007 voyage to Dusky Sound (named by Captain James Cook in 1770), at the invitation of the Otago Peninsula-based Caselberg Trust. In 2008, Creative New Zealand funding allowed her to undertake a research trip to the UK, where she was able to study first-hand the botanical collections and journals of Sir Joseph Banks, and Sydney Parkinson's sketches and drawings from the 1768 – 1771 Endeavour voyage. 

Figure 4: Five Finger necklace by Lynn Kelly. Image courtesy of Lynn Kelly 
In 2012 Kelly was the recipient of a six-week Wild Creationsartist'sresidency. The Wild Creations programme, run by the Department of Conservation and Creative New Zealand, allowed artists to spend time in a wonderfully diverse range of remarkable conservation sites. Kelly chose Bannockburn, in Central Otago, and spent time investigating the local wildlife and landscapes, from the Sutton Salt Lake (New Zealand's only inland salt lake), to lichens, hillsides of wild rose bushes, and evidence that rabbits had been there before her… It led to her solo exhibition 'Central' which opened first at the Bannockburn Post Office.  

Figure 5: Rabbit necklace by Lynn Kelly. Image courtesy of Lynn Kelly

That was the genesis of her rose hip works – necklace and rosary – in which the hips themselves were treated as beads, as might have been the case centuries ago.   

Figure 6: Rosehip rosary by Lynn Kelly. Image courtesy of Lynn Kelly

The following year she exhibited an updated group of works that celebrated this diverse environment, acknowledging the 150th anniversary of the discovery of gold in Central Otago and the impact it had on the region. 
Flora and the environment are her usual starting points, but the final works are the result of varied design trajectories. Kelly was appointed the 2014 Auckland Council regional parks Artist in Residence and spent two months at Scandrett Regional Park, near Warkworth. You can see something of her time there, in the Moonlight Bach with a view of Kawau Island, at https://www.youtube.com/watch?v=z_LUE0s_nQI.  
There is a broad pattern in which inspiration gained from residencies, or other opportunities to be in a different environment, or to work with other people – being nudged off a familiar path for a time – have sparked experimentation and fresh work. Her pumice pieces started at Taupō, for example, while her edgy work with fishing industry detritus – anything from nets to rope fragments – began with picking up beach rubbish. Sadly, she has found material to make such work from the Chatham Islands to Warkworth. Ongoing consumer demand often allows her to continue developing those ideas.   

Figure 7: Pumice necklace by Lynn Kelly. Image courtesy of Lynn Kelly 

Figure 8: Flotsam necklace by Lynn Kelly. Image courtesy of Lynn Kelly

Sometimes plants provide the inspiration; sometimes they are the actual material from which her jewellery is made, such as the tussock and gold necklace for which she won the 2007 Dowse Art Gallery's Gold Award. She's also produced work conveying the appeal of fossil shells and diatoms.  
The silver and live-moss brooch and ring she made for 'Other World', her 2016 iD Fashion Week exhibition at Ann Culy's lure gallery workshop, marked another shift: to the use of living plants. At the time the exhibition opened, the moss, originally collected from a piece of concrete on the side of the road, had been kept alive, with care, for nine months. This work wasn't about the environment, it was the environment.     
The piece that has recently gone on display in the Southern Land Southern People gallery at Tūhura Otago Museum is a houhere-inspired necklace. It uses a technique for printing on metal that Kelly first investigated in Adelaide in 1999, to create a bracelet commemorating her father. In the SLSP necklace, metallic houhere leaf shapes are printed with images from the NZMS map series, showing areas of Te Wai Pounamu within the tree's natural ecological range.  

Figure 9: Houhere-leaf necklace by Lynn Kelly. F2016.8. Lyders Fund; Tūhura Otago Museum Collection   
In recent years Kelly has investigated using a wider variety of less traditional jewellery materials.  
Meticulous, exquisite, careful, and documentary; always able to be worn 'at least once'; Lynn Kelly's work offers a rich archive of the natural-world inspiration behind some of New Zealand's most enjoyed studio jewellery.