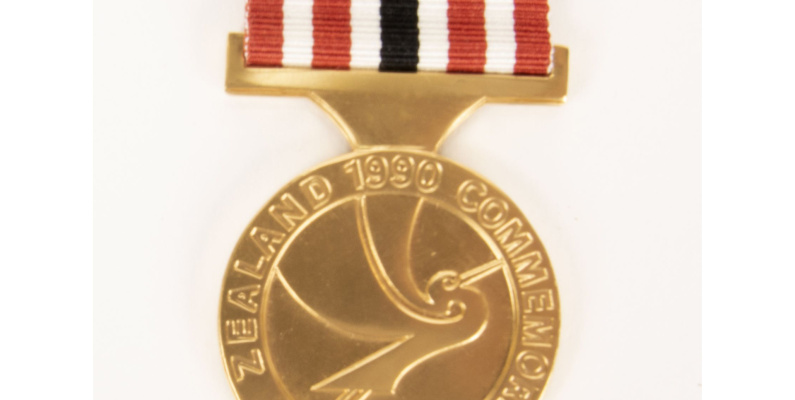 Janet Frame, pronounced "New Zealand's most distinguished writer" by the Oxford Companion to New Zealand Literature, was born on 28 August in 1924.  Her many awards include the CBE; Member, Order of New Zealand; Nominee for the Nobel Prize in Literature; Honorary Foreign Member of the American Academy and Institute of Arts and Letters; Hon DLitt, University of Otago; President of Honour, PEN (New Zealand); and Honorary Vice-President of the New Zealand Women Writers' Society. 
Frame's New Zealand 1990 Commemoration Medal was recently donated to the Otago Museum by her niece, Pamela Gordon. It is a marvellous addition to our more often military-centric collection of medals, and a delightful tribute to this brilliant writer of "luminous words", as described by author Hilary Mantel. The medal arrived at the Museum in its original red box, which also holds the ribbon bow provided for women recipients who wish to wear it on their left shoulder.
Image:1990 Commemoration Medal belonging to Janet Frame in original box. Gifted by Pamela Gordon. Otago Museum Collection. F2019.3  © Otago Museum.
About 3000 people were awarded the 1990 Commemoration Medal for their varied contributions to New Zealand life. The medal itself was designed by Philip O'Shea, the New Zealand Herald of Arms Extraordinary (the position title for the officer of arms responsible for the regulation of heraldry in New Zealand), and was struck by the Royal Australian Mint in Canberra.
On 14 February, 1990, Frame was invited to Government House in Wellington to receive her Commonwealth Writers Prize from Queen Elizabeth II. She was invested with the Order of New Zealand, and received the 1990 Medal on the same occasion.  Wonderfully, author Michael King included the event in Wrestling with the Angel, his biography of Frame:
"The Queen was not at all put out that she and Frame faced each other in dresses of almost identical pattern and colour" he wrote, adding that "Her Majesty showed an interest in the writer's diamond and ruby butterfly brooch, with one antenna missing, which Frame had inherited from Peter Dawson; and in her handbag". 
To our delight, the Museum was also given the brightly coloured ensemble Frame chose to wear that day. Unlike the Queen's, however, hers has a Roulette label, made in New Zealand, and was probably purchased in Palmerston North, where she was living at the time. 
Top Image: Image:1990 Commemoration Medal belonging to Janet Frame. Gifted by Pamela Gordon. F2019.3 Otago. Museum Collection. © Otago Museum.