An epic night of astronomy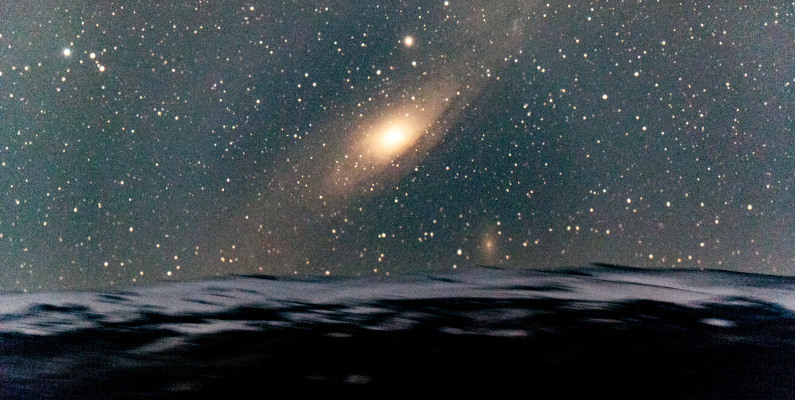 Back in July 2015, I described a difficult celestial challenge which I intended to overcome. I set out to spot a marvellous object which astronomers call the great galaxy in Andromeda – a collection of a billion stars some two million light years from Earth.
From the northern hemisphere the Andromeda Galaxy is visible to the unaided eye, and is generally acknowledged as the most distant object humans can see without optical aid. From this part of the world it's very hard to see at all, simply because it never gets higher than 3 degrees (three times the width of your index finger held at arm's length) above the horizon.
This time of year the best time to try to spot the Andromeda Galaxy is around midnight, when it reaches its highest point above the northern horizon. To have any chance of success, it's essential to have really clear sky and to view from a place well away from city lights, with a completely unobstructed view of the northern horizon. So having carefully researched suitable locations around Otago, and with excellent weather in prospect, last weekend I drove from my home in Portobello to a spot I'd identified on Rocklands Road, a tributary to State Highway 87 just past Clarks Junction. 
I'm pleased to report that, finally, after almost 15 months of trying, I succeeded not only in spotting the galaxy, but also (as the accompanying picture shows!) using a new telescope I managed to obtain a half-decent photograph of my target as it hung above the Rock and Pillar Range near Middlemarch.
At the time this was taken, the Andromeda Galaxy was just 2 degrees above the horizon. The fact that I could see it at all is a tremendous demonstration of how clear and dark the sky here in Otago can be. I believe this is the furthest south anyone has ever photographed the Andromeda Galaxy; perhaps a reader can try and do better!