The New Year and the month ahead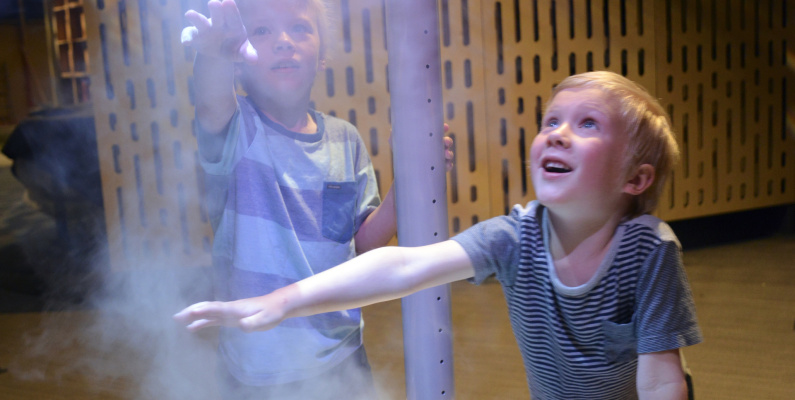 The Museum has been buzzing with excitement since the December opening of our amazing Tūhura Otago Community Trust Science Centre which includes the refreshed Tropical Forest butterfly enclosure. Our visitors are loving trying out all the fantastic new interactives as well as seeing the butterflies again, and meeting the new giant stick insects. Come along at 1.30pm in the weekends to get up-close and personal with these gentle giants (included with your Tūhura admission).
You need plenty of time to have a go at everything as well as see the butterflies, so we are offering a great new deal – an annual pass for Tūhura so you can spend as much time as you like there and keep coming back!  You can also get a Combo Pass that includes a Perpetual Guardian Planetarium show too.
Check here for Tūhura Admission prices. The butterfly house is included in your Tūhura admission, but the planetarium is not.
And if you haven't already, come and see Life before Dinosaurs: Permian Monsters. This unique international touring exhibition, produced by Gondwana Studios, brings the deep past back to life with fossilised skeletons and life-size animatronic models of the animals that ruled the world millions of years before the age of dinosaurs, in a time known as the Permian. Special Exhibitions Gallery, open daily until Sunday 25 February 2018. Paid admission. 
Image credit: Gondwana Studios
Monday 15 January to Friday 26 January: Explorers' Club
There's heaps of school holiday fun on offer. The Explorers' Club school holiday programme includes lots of inspiring educational fun programmes for kids aged 5 to 12, with different themes every day. It might be engineering challenges, hands-on experiments, gallery explorations, or making and playing games. There'll be surprising fun for everyone! That's on weekdays during the school holidays and is fully supervised. Dress for mess! Kids can bring a packed lunch and drink bottle or pre-order lunch from our Café. They watch a G-rated movie during break times. This programme fills up fast so bookings are essential. Whole day sessions or half day sessions are available, or book for all ten sessions and get a 10% discount.
Saturday 16 December – Sunday 28 January: Chaos! Fix up the mix-up!
Kids always love our school holidays gallery trails. Imagine a mix-up of butterfly pupae left a batch with no identification tags, and unknown butterflies emerged! Kids have to help us out by searching the galleries for the answers to questions then unravel the identities of the butterflies in the puzzle to claim a reward. Available throughout the day, kids can collect their free trail from the Info Desk.
Monday 22 – Friday 26 January: Ancient Egypt Makerspace
The Museum's ancient Egyptian mummy has recently been in the spotlight. Visit the People of the World gallery to see her newly reconstructed face, make your own 'mini-mummy' and an Egyptian-themed paper fortune teller, then help us decorate a 2D sarcophagus. Self-guided, family-friendly activity.
Saturday 27 and Sunday 28 January: Kia Rapua Science Playground launch
Join us to launch 'Kia Rapua – Go Explore', a Curious Minds project that is developing playgrounds which provide science-themed explorations for children under seven. Bring the kids and your own inner child to try out the playground! 11am–4pm, Museum Reserve, free.
Sunday 28 January: The Foxy Tones, Live @ OM
Come along and enjoy an afternoon of nostalgia and exceptional harmonies with plenty of sparkle – lively hits from the 30's and 40's as well as classic and current pop music. 1pm, Atrium Level 1.
Thursday 1 February: Yoga with the butterflies
Exercise with a difference, alongside the butterflies in our warm Tropical Forest! Hot Yoga Dunedin instructors lead a gentle hatha yoga class focusing on moving slowly through basic poses and using breathing to remain present and mindful. BYO mat, towel and drink. For ages 14+. These classes are popular, so bookings are essential! 
Tuesday 13 February: Photography 101
Want to get more out of your camera? Ever wondered what exposure or shutter speed to use when taking wildlife photos? Come along to this session with the Canon Team as they talk about the fundamentals of photography, and answer your questions. 5.30pm, Hutton Theatre.
Friday 23 February: Otago Wildlife Photography Competition closes
Every year Otago's talented photographers enter brilliant images of plants, animals, pets (for 14 and under), night skies, or human impact on the environment, or short videos of wildlife in action. Entering is free, so be in to win great prizes and the chance to feature in the Museum's 2018 Otago Wildlife Photography Exhibition. Check out our website to see some beautiful shots from last year's competition, and get snapping!
There's so much exciting stuff happening! Start your New Year by being inspired, challenged, entertained, or just having fun at the Museum.
Image credit OWPC: Carey Knox