The Month Ahead @ OM: November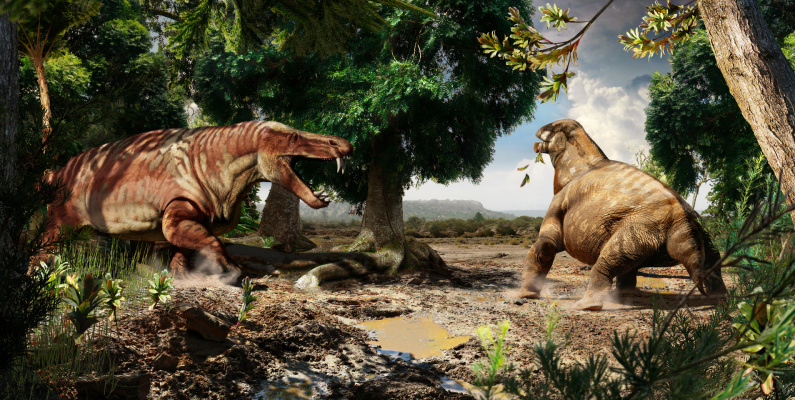 The end of the year is looming fast and November offers a great chance to get to the Museum for some of our special happenings before things get really busy!
The Museum's highlight of the year continues: our popular Life before Dinosaurs: Permian Monsters from Gondwana Studios is wowing visitors with its life-size animatronics, fossil dig-pits and stunning artwork that offers a glimpse into the deep past. Special Exhibitions Gallery. Paid admission.
The Flying Monsters Planetarium show is recommended for all those whose interest has been piqued by the Life before Dinosaurs: Permian Monsters exhibition. Sir David Attenborough, the world's leading naturalist, sets out to uncover the truth about the enigmatic pterosaurs, whose wingspans of up to 40 feet were equal to that of a modern day jet plane. Perpetual Guardian Planetarium. Paid admission.
Saturday 4 November: Are We Alone in the Universe? Virtual reality lecture
Bring your own YouTube 360-enabled smartphone to attend this virtual lecture by astrophysicist Dr Lisa Kaltenegger to find out about exoplanets and whether they might be suitable for supporting life.
Virtual reality headsets will be provided by the Otago Museum for the duration of the lecture, but you must bring your own VR-compatible device. Museum staff will distribute headsets and help you set up your device from 1pm. The lecture starts at 1.30pm. Limited numbers, bookings essential. 
Tuesday 7 November: Thirst for Knowledge – Shells Tell Stories
This month in the new Thirst for Knowledge series, Professor Abby Smith, from the Department of Marine Science, University of Otago will share her fascination for shells and what they can tell us about the ocean, the past, and the world. Ombrellos Kitchen & Bar, free, 5.30pm.
Monday 13 November: Otago Wildlife Photography Competition
The 19th annual Otago Wildlife Photography Competition opens soon! For amateur photographers and videographers living in Otago, the 2018 competition invites entries in the Animal, Plant, Human Impact on the Environment, Pets, and Night Skies photo categories, as well as the Wildlife in Action video category. 
Website with more info and terms and conditions coming soon.
Saturday 18 November: Photo Safari Field trip
To get inspired for the competition, book a seat on our double-decker bus, and join guest photography experts to discover some of Dunedin's best photo-snapping locations. Numbers are limited and bookings essential. Book at www.otagomuseum.nz or the Info Desk.
Monday 13 November: The Future of Science Engagement – A Practitioner Perspective
Join Prime Minister's Science Communication Prize recipients, Dr Michelle Dickinson MNZM (aka Nanogirl) and Museum Director Dr Ian Griffin; together with the Ministry of Business, Innovation and Employment's Science Advisor Professor Hamish Spencer, and science engagement leaders Dr Barbara Anderson (Ahi Pepe MothNet) and Professor Peter Dearden (Lab in a Box) to discuss the future of science engagement in New Zealand. The panel will reflect on their experiences of connecting and inspiring the public with science, and the challenges and opportunities looking forward. Beautiful Science Gallery, free, 5.30pm. Book at www.otagomuseum.nz or the Info Desk.
Sunday 26 November: Live @ OM – Les Belles Vilaines
For those out and about on Sunday afternoon, come and see a display of 18th and 19th century traditional dances from the Quadrille Club and friends. 1pm, Atrium Level 1
Wednesday 29 November: Antarctica – Living at the End of the World
Hear Anthony Powell, the New Zealand Antarctic Society's 2017 National Speaker who has spent ten winters in Antarctica. He will talk about his experiences living in Antarctica and his own personal journey to becoming a full-time filmmaker. Hutton Theatre, free, 5.30pm.
There's so much to see and do here at the Museum this month! Come in and see for yourself!