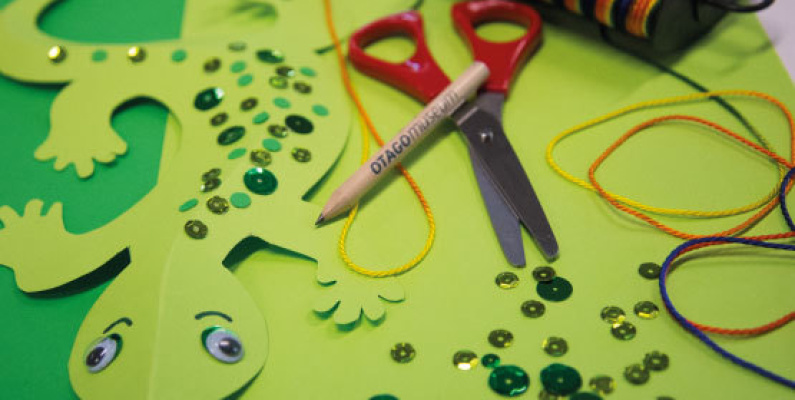 The Museum's April programme is continuing to ramp up. The month ahead is looking to be busier than ever with two exciting newly opened exhibitions, events supporting Wild Dunedin's Festival of Nature and the inaugural New Zealand Archaeology Week, plus our usual range of cool school holiday programmes and activities.
Current – a new exhibition featuring the work of nine creatives inspired by objects from the Museum textile collection – highlights items that are beautiful, iconic, fascinating and very out of the ordinary. User-friendly touch screen technology allows you to read about the collection object, the new work that it inspired, the artists' profiles, and a commentary from the Curator. It's well worth a visit! 
On Wednesday 26 April, we have an Artist in action! Watch local artist Jonathan Waters as he begins the creative development of the Current-inspired live art installation in the Museum's Atrium. Then, inspired by Current, make your own mark on this collaborative installation. Jonathan Waters has created designs that will shape this wall art. After exploring the exhibition for ideas, anyone can add their creative flair to a design and stick it on the Atrium wall.
Join Madelyn Shaw, Curator of Textiles at the Smithsonian's National Museum of American History, as she explores the intrigue of exoticism and how it continues to influence fashion today. That's on at 2pm, Sunday 30 April in the Hutton Theatre.
The 2017 Otago Wildlife Photography Exhibition has just opened and again presents a fabulous array of images shot in New Zealand and all over the world by our very talented Otago amateur photographers and videographers. Come in and take a look at these amazing photos. Use the touchscreens to view the 2000+ entries and vote for your favourite for the People's Choice Award.
The inaugural New Zealand Archaeology Week is in full swing. Professor Glenn Summerhayes from Otago University will speak in the Museum's Barclay Theatre on Tuesday 4 April about his research in Papua New Guinea and the western Pacific on the enigmatic Lapita people. After the talk, he will lead a short tour of part of the world-class Melanesian collection in the Pacific Cultures gallery. 
Everybody's favourite bug man, Ruud Kleinpaste, will be opening Wild Dunedin's Festival of Nature at the Hutton Theatre at 6pm, Friday 21 April, with 'Messages from below – how biodiversity runs the planet'. He will also be leading an educators' workshop using nature as a context for education at 3pm on Friday 21 April in the Hutton Theatre.  This is aimed at education professionals, including nature nerds, artists, linguists, historians, economists, or teachers interested in taking new inspiration from nature. Numbers are limited so book your place now. 
A festival opportunity not to be missed is Humpback Whales in the Perpetual Guardian Planetarium. Narrated by two-time Golden Globe® nominee Ewan McGregor, this is an extraordinary journey into the mysterious world of one of nature's most awe-inspiring marine mammals. Set in the spectacular waters of Alaska, Hawaii and the remote islands of Tonga, this ocean adventure offers an up-close look at how these whales communicate, sing, feed, play and take care of their young. 
During the holidays, bring your kids in to meet the Museum's resident moko kākāriki and visit the Nature gallery before getting crafty at Makerspace making your own paper gecko decoration inspired by some of Dunedin's iconic wild inhabitants. Also on offer during the holidays is a new Gallery trail, Who wore it better?  This will get your family searching the galleries looking at some of the interesting items people wear. What they are made from may surprise you! 
With the April school holidays nearly upon us, book your kids in now for a stimulating and fun-filled two weeks of Discovery Squad – Otago Museum's holiday programme. Different themes are offered every day – there's a wealth of creative and enriching activities for kids 5–12 years. With cool crafts, science fun, and visits to the Museum's galleries, Discovery Squad is always popular. 
Beautiful song will fill the Museum on Anzac Day. Come along to hear the Cantores Choir performing beautiful commemorative works.  Rosemary, which grew where the Anzacs fought, will be handed out by young Scouts to visitors entering the Museum on Anzac Day. Rosemary for remembrance. Buy an Anzac biscuit with your coffee at the Shop, then visit the Surviving Chunuk Bair: H D Skinner at Gallipoli display in the People of the World Gallery. Read first-hand reporting of the battlefield and see the items H D Skinner used and the letters he wrote.
Enjoy a cruisy Sunday afternoon with soft rock, jazz and pop performed by expert musos Robyn Johnston and Doug Wright (of Oxo Cuban fame). They are Tu Tu Tango Live @ OM on Sunday 30 April at 1pm.
That's just a taster – there's so much happening here at Otago Museum during April. Come and see for yourself!