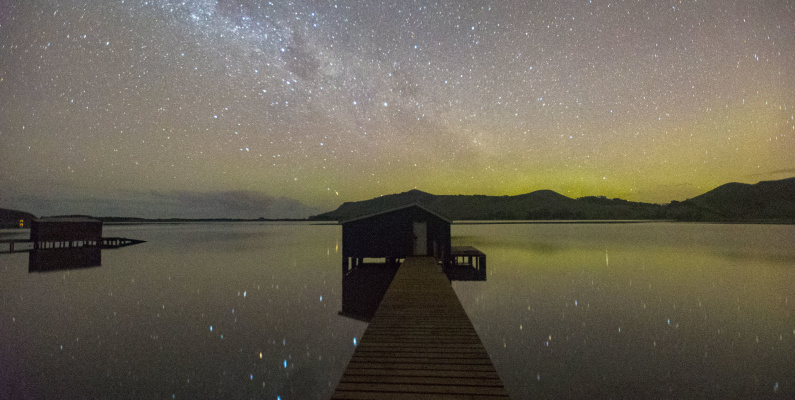 My aim in writing these posts is to encourage you to enjoy something interesting in the night sky – sometimes it's a lunar eclipse, at others it might be a close approach between planets, or (as last week) a particularly beautiful celestial object like the lagoon nebula.
Amidst the hustle and bustle of daily life, it can be easy to forget the simple pleasure of stargazing. Yet, when conditions are right, the combination of a crystal-clear sky and stunning Otago landscape can make for moments of transcendental splendour.
I was reminded of this recently whilst driving around Hoopers Inlet, one of my favourite local astronomical stomping grounds. The night was still, the moon had yet to rise, and a high tide meant that, for an hour or so, the inlet's shallow water became a slowly oscillating mirror, reflecting light from a myriad of stars as the distant sound of south Pacific waves crashing into Allans Beach rumbled around the encircling hills. It was a perfect astronomical scene and after being mesmerised for a few moments I grabbed my camera and shot some pictures.
This time of year, the Southern Cross and Pointers are relatively low in the evening sky, and as you can see, the photo captured their reflections. The slow oscillation of the water has broadened the reflected stellar images, making their colour easy to see; in particular the orange colour of the star Gamma Crucis contrasts with the blue-white of the other bright stars in the Southern Cross. As an astronomer I know that Gamma's orange colour means that its surface temperature (roughly 3600°C) is much lower than that of its celestial companions (which are between 10,000°C and 30,000°C). 
The onset of daylight saving time early last Sunday morning means that you will need to stay up late to enjoy celestial vistas like the one I've just described, but the new moon on Saturday means that away from city lights the views should be splendid. Why not go out and take a moment to enjoy the stars this weekend?