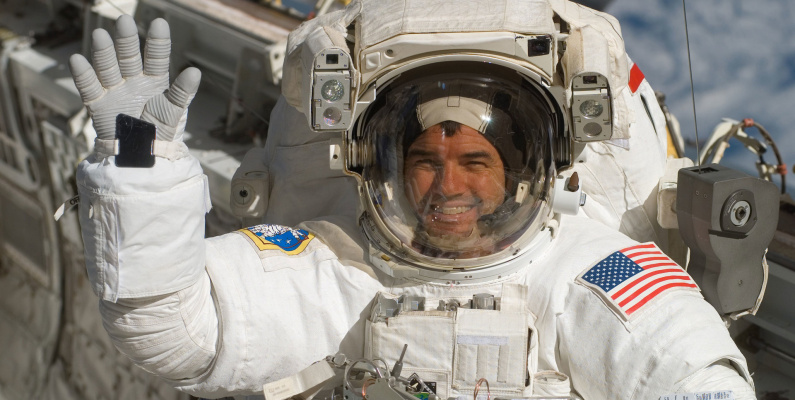 NASA Astronaut Rex Walheim is on his way to the Otago Museum. Literally on his way, as a matter of fact – as of press time he'll be flying over the Pacific Ocean.

Although the journey from the United States to New Zealand is a lengthy one by most standards, I'm guessing Astronaut Walheim's three space flights (totalling over 36 days in space) mean he's pretty well-prepared.

He's also done five spacewalks for a total of more than 36 EVA hours. EVA is short for Extravehicular Activity, and describes "any activity for which a crew member must go outside the protected "shirtsleeve" environment of the orbiter's crew cabin", according to NASA. So, stepping into the literal vacuum of space.

Sometimes I question whether or not I want to leave the house for groceries when it's raining, so I find this quite impressive.


Astronaut Walheim, (a most enjoyable phrase to type, if case you were wondering), a retired Colonel in the United States Air Force, was selected by NASA in 1996. He's served as CAPCOM in the Mission Control Center and Chief of the EVA Branch, and was a Mission Specialist on the final flight of the Space Shuttle Program.

He's now NASA's Astronaut representative to the Orion Program, which is building spacecraft to take humans farther into space than we've ever gone.

A few tickets are still available to attend Astronaut Walheim's talk on Sunday 6 December at 5pm. He'll talk about his experiences in space, including flight training and walking in zero gravity, and NASA's new Commercial Crew vehicles that will take astronauts to the International Space Station.

Although they're still available at the moment, tickets ($5) have been going at a steady clip, so we recommend getting yours sooner rather than later. And if you miss out on the tickets, you can always stop by the Museum on Saturday 5 December to meet the man himself from 1pm to 2pm.