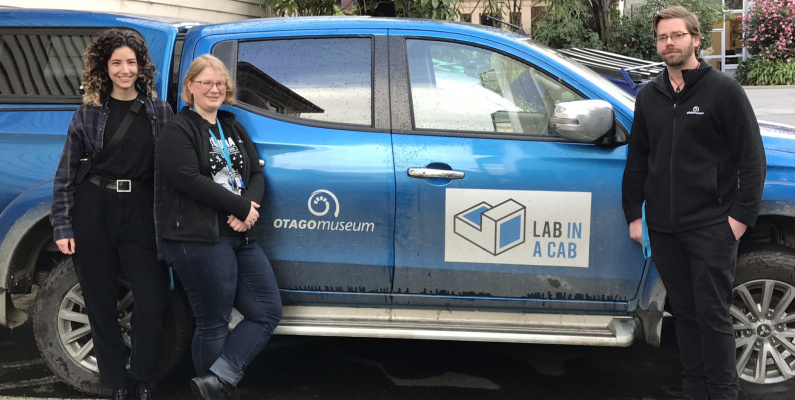 It's time to get up close and personal with Mars! This July, Earth is getting the closest to the little red planet that it has been in 15 years. Earth will be between the sun and Mars (in opposition) on 27 July, closely coinciding with Mars' perihelion (the closest point in its orbit to the sun). To celebrate this exciting event, the Otago Museum will be utilising one of the high powered telescopes at the Mt John Observatory. Located in Tekapo and the Aoraki Mackenzie International Dark Sky Reserve, this location allows ideal views of the night sky because it is one of only eight places in the world where light pollution is strictly controlled.
Over the next week, three of Otago Museum's Science Communicators will be taking over our social media pages as part of this amazing astronomical phenomenon. Be sure to follow us on Instagram, Facebook, and Twitter as Isobel Andrewartha, Alysha Painter and Anthony Stumbo visit the Mt John Observatory and bring you closer to Mars.
If you've got any questions for the team, hit them up using #MarsMania!
Meet our Mars Team
Isobel Andrewartha
While these days I am a Science Communicator, I originally studied English. It was the stories of the stars and constellations that originally drew me to astronomy – but these days I like to tell those stories alongside some pretty hardcore science. I'm originally from Tasmania, in Australia and have called Dunedin home since 2013. While here not only have I become passionate about science communication, I also knocked out a Master's thesis as well. Over the next week, I'll be on the OM Twitter feed talking all things planetary. Look out for my Mars themed haiku!
Isobel will be posting over on our Twitter.
Alysha Painter
I'm an amateur astronomer and photographer originally from San Francisco, California. I have a bachelor's degree in biology and I moved to Dunedin a year and a half ago to pursue a Master of Science Communication degree at the University of Otago. I'm particularly excited to be going to the Mt John Observatory this week because I love astrophotography and I'll be putting some of our best photos onto Instagram during our time at Mt John.
Alysha will be posting over on our Instagram account.
Anthony Stumbo
I'm a behavioural ecologist (at least that's what my degrees say). Originally from Minnesota, I moved to Canada in 2009 to get my MSc, and then New Zealand in 2013 to get my PhD. After many years of schooling, I decided to drastically change routes, and now I'm a Science Communicator at the Otago Museum. As a side-effect of this new career, I have developed a fondness for astronomy, something I never would have predicted.
Anthony will be posting over on our Facebook page.
---
 Image: Alysha, Isobel and Anthony.