In search of the horse's head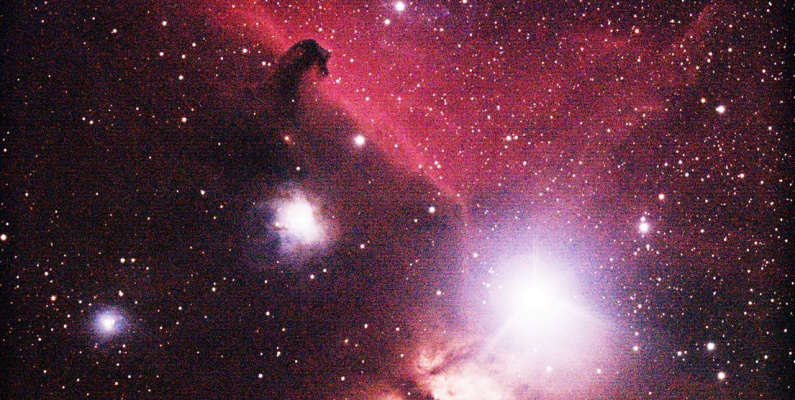 The past weeks haven't been happy ones for Dunedin stargazers. Evening weather since Christmas has been dreadful, with few clear nights. With time off over the holiday period, and feeling astronomical withdrawal symptoms, I decided a stargazing road trip was in order. A New Year's Eve forecast of clear sky near Naseby and a blanket of low cloud over Portobello enticed me to load my telescope and camera equipment into my car and head for the hills.
Two hours after setting off, and just as the sun set over the distant hills surrounding my destination, I arrived at Mount Buster Road near Naseby and set up my telescope for what I hoped would be a long night of astronomy. As the sky darkened, the constellation Orion caught my attention, high in the northern sky. To make sure everything was working, I decided to point my telescope at one of Orion's belt stars, an area of the sky containing one of my favourite objects, which astronomers call the 'Horsehead Nebula'.
Attached to my telescope was a camera, from which I had recently removed the infra-red filter. The camera is therefore pretty useless for daytime photography, but excellent at capturing dim red light from distant nebulae. I wanted to see how it might work, so pressed the shutter and crossed my fingers.
Thirty seconds later, an image appeared on the camera screen. My simultaneous yell of excitement probably woke the slumbering residents of Naseby. I hope you will agree that the picture I took beautifully captures the black horse's head, a dark cloud of dust and gas some 1,500 light years away. I set the camera to shoot some more pictures and retired to my deckchair to look at the stars, at which point I noticed that the sky was beginning to cloud over. Within 30 minutes the sky was completely cloudy, so I packed up my telescope and started the long journey home.
There might be some who think that driving 300km to get one decent picture of a distant nebula is madness. I beg to differ.