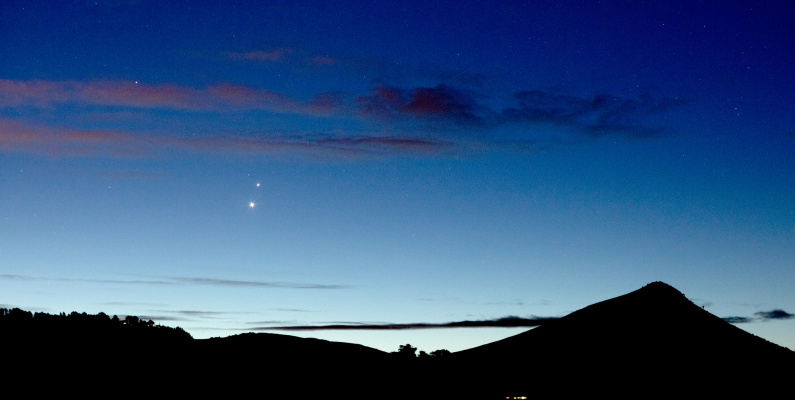 I hope readers had a chance to enjoy last week's spectacular planetary conjunction of Jupiter and Venus. While annoying high clouds (as seen in the photo) marred my view from Portobello last Sunday, the previous night the planetary duo presented a simply marvellous vista from my observing location near the eastern end of Hoopers Inlet. Seeing Jupiter and Venus in close proximity against the stunning backdrop of Hereweka was truly awe-inspiring, especially as it won't happen again until 2065!
New moon occurs tonight at 9:03pm, so by the weekend the already outstanding planetary gathering will be enriched even further when the beautiful, thin lunar crescent enters what's undoubtedly becoming quite a crowded celestial scene in the constellation Virgo.
As the star chart shows, after the sun sets on Saturday, the 3%-illuminated crescent moon will form a beautiful celestial quartet with Mercury, Venus and Jupiter. With the sun setting at 6:11pm (here in Dunedin), you will need to be quick off the mark to sight this, as moon set is at 8pm. You will also need to find a spot with a good western outlook; I'd suggest  anywhere on Highcliff Road with a clear view of the harbour will be just dandy for those who live in Dunedin.
Weather permitting, once the sky becomes relatively dark the view of the fine lunar crescent surrounded by three planets will be enhanced further when earthshine, the ghostly illumination of the dark part of the lunar disc, becomes visible. To my mind, earthshine is one of the most exquisite sights in the heavens, especially when one remembers that the light you see when observing earthshine is sunlight which has reflected off both Earth and the moon before entering your eyes.
While the view on Saturday should be memorable, it's still worth heading out on Sunday since the moon will be a slightly fatter crescent (it will be roughly 9% illuminated) and will have moved to a point above the planets in the sky.