est.1868: A Walk on the Wild Side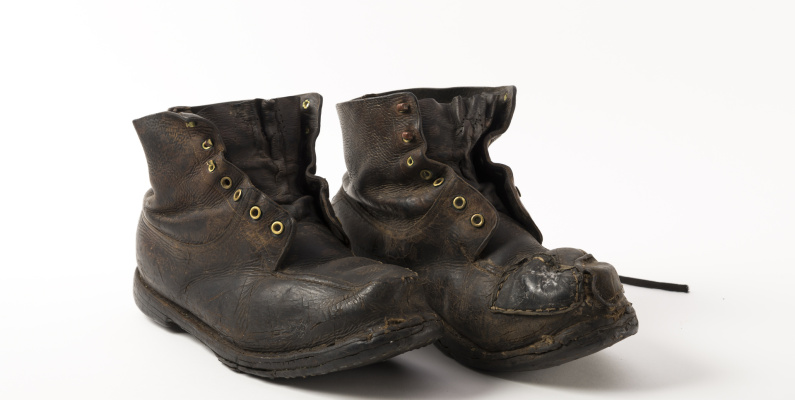 There is a pair of patched, worn leather boots, a little over a century old, on display in the deadliest section of est. 1868.
An eyelet is missing from the right boot; a sole is nailed in place; there are cracks in the leather and a lace is lost. Many repairs are evident. The initials "E W" are pierced on their tongues. 
The accession register notes only "Boots (Capt. Scott) per S.S Aurora. Per Imperial Transantarctic Exped (Shackleton)".  
The Aurora was one of two ships that sailed south in early 1915 bearing Sir Ernest Shackleton's Imperial Trans-Antarctic Expedition (ITAE). She reached McMurdo Sound, where her crew began to unload the supplies it was anticipated Shackleton's team (who had sailed on the Endurance) would need towards the end of their crossing. Before that work was completed, however, the Aurora broke from her moorings during a severe gale with only a small crew aboard.  After weeks drifting, trapped in pack ice, she managed to make her way to Port Chalmers, captained by Lieutenant Joseph Stenhouse. 
The men left stranded at the Ross Sea remained there until the Aurora was repaired and able to sail south again the following year to rescue them. They continued laying supply depots and undertaking what scientific work they could. Clothing supplies were scarcer than food. Newspaper accounts later noted that Ernest Joyce and Frank Wild made clothes and fur boots from the materials that had been left in Robert Falcon Scott's huts at Cape Evans and Hut Point. Some are now in the collection of the Canterbury Museum. [1]
Two sledges from Scott's unsuccessful Terra NovaExpedition were found at Mount Hope in January 1916. [2] These were used and brought back to New Zealand. 
The boots on display in est. 1868 are not so precisely documented but Stenhouse wrote that they were "made at Cape Evans by one of Scott's party". [3] The only member of the Terra Nova Expedition with the initials E W was Edward Wilson, doctor and artist, who died of hypothermia with Scott and Bowers in March 1912.
In 1917, William Benham and Edwin Gibson, the Museum's curator and taxidermist, created a display in the Hocken Wing on life in the Antarctic, using taxidermied seals, penguins, skua and petrels that were donated by the ITAE. Benham wrote that "a sledge, and … some harness, skis, and other things used by members of the ill-fated Scott expedition" were placed outside the case. [4] We assume that these boots were there, showing Museum visitors that the stunningly beautiful continent was also deadly.
These boots are currently on display in the Special Exhibitions Gallery as part of our est. 1868 exhibition.
---
[1] Cadenhead, Natalie (2011). "These boots were made for walking: the footwear of the Ross Sea Party of the Imperial Trans Antarctic Expedition 1914-1917". Context 23 pp 33-43.
[3] Stenhouse, J (1917). Letter to W Benham 5 January 1917. Dunedin: Hocken Collections Te Uare Taoka o Hākena MS-0762.