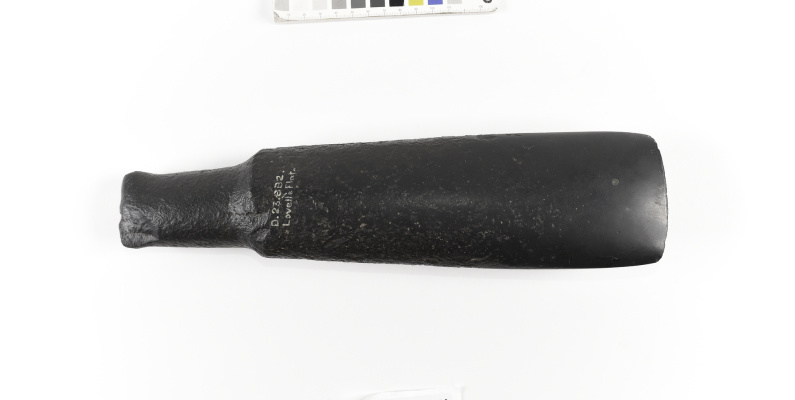 Uncovering Pacific Pasts: Histories of archaeology in Oceania is an international exhibition organised by Australian National University in collaboration with more than 30 collecting institutions around the world, from the Solomon Islands to Scotland; Vanuatu to Vienna; Oslo to Otago.
As they have described it, 'it explores the ideas, people and networks that were pivotal in the development of the discipline of archaeology and that continue to affect the ways in which we all engage with the deep history of the Pacific'.
The exhibition reveals the interconnected histories of objects interpreted and reinterpreted by collectors and archaeologists in the past: who made them, who used them and who traded them.
It is part of the Collective Biography of Archaeology in the Pacific (CBAP) Project, an Australian Research Council (ARC) funded Laureate research program based in the School of Archaeology and Anthropology, College of Arts and Social Sciences at The Australian National University in Canberra, Australia.      
Otago Museum is part of this exciting global exhibition, focussing on the contribution of Henry Devenish Skinner (1886 – 1978) to archaeology in the islands of te Moana-nui-a-Kiwa. Although Skinner is better remembered to history as a museum curator and director, he had a lifelong interest in the results and methodology of archaeological research. During his years at Otago Museum, he was involved in the establishment of an archaeological section of the Otago branch of the New Zealand Institute[1], now the Royal Society of New Zealand Te Apārangi, encouraged the appointments of archaeologists David Teviotdale and Les Lockerbie as staff members, and undertook archaeological fieldwork in North America as part of a Rockefeller Foundation travelling fellowship which he took up in 1927. [2] He was the founding chair of the New Zealand Archaeological Association council.
For the UPP project, however, the spotlight is on Skinner's adze classification. Based on extensive research in museum and private collections worldwide, Skinner formulated a classification of adzes based primarily on their morphological characteristics, or form, such as cutting edge, cross-section shape, and the presence or absence of a grip. His aim was to help make comparisons between adzes studied by different researchers in different locations easier and more meaningful.

Image: D23.682 Black basalt adze found at Lovell's Flat, Otago in 1873.  Gift of Duncan Macdonald; Otago Museum Collection. With kind permission Te Rūnanga o Ōtākou, and the Otago Museum Māori Advisory Committee.
Alfred Cort Haddon had encouraged Skinner's taxonomic studies at the University of Cambridge, where he was a student in the years immediately following WWI. His first published adze classification appeared in The Morioris of Chatham Islands,[3] in 1923. In it, Skinner described various aspects of Moriori material culture, including a proposed classification of stone tool types. He believed indicating "comparative examples" would help to "determine the closeness of the relationship between the material culture of the Morioris and that of other parts of Polynesia".
"In the section which deals with axes, adzes, and chisels", he wrote, "what is believed to be a new method has been followed. The implements have been classified into groups or types, and it happens that no type has been erected that does not also exist in some other part of the Pacific. For each type a "type specimen" has been named, and wherever possible its front, side, and back views have been given, as well as the cross section… It is believed that by this method students will be able to obtain a much more accurate knowledge of the form and relative size of these implements". All were figured at a uniform scale.
Skinner continued his interest in, and work on, adzes into the next decade. In 1930, he co-authored 'Terminology for ground stone cutting-implements in Polynesia' with Te Rangi Hiroa and colleagues from the Bishop Museum in Hawaii. [4] This, also, aimed to make communication and comparisons simpler and more significant.
He presented his classification of adzes from Murihiku, a name he used to designate "the districts of Westland, South Canterbury, Otago Southland, and Stewart Island", [5] at the Third Congress of Prehistorians of the Far East, in Singapore, in 1938. Although the title of his paper specified Murihiku – an area he believed "produced ground stone cutting implements in greater variety and in greater beauty than any other region in Polynesia, or perhaps in the whole world" – Skinner concluded, "The classification here proposed is designed to apply ultimately to the adzes of Polynesia as a whole. It has been applied to very large New Zealand collections, to a large collection from the Chatham islands, to a large Cook islands collection, and to smaller collections from Rapa, the Society islands, and the Marquesas. In all these cases it can be applied with ease".
Our Uncovering Pacific Pasts case displays a black basalt toki found at Lovell's Flat, Otago, which Skinner chose as his 'type specimen' of a 1C adze. Its broad cutting edge, triangular cross-section, and well-formed grip marked it out to Skinner as an ideal example. He added that it was 'a beautiful adze'. Its donation to Otago Museum was noted in the local press:

Images: D23.682 Black basalt adze found at Lovell's Flat, Otago in 1873.  Gift of Duncan Macdonald; Otago Museum Collection. With kind permission Te Rūnanga o Ōtākou, and the Otago Museum Māori Advisory Committee.
'Of the latest [gifts], to be received, the most important is a beautifully finished black basalt adze, which was found in 1873 at Lovell's Flat, and presented by Mr Duncan Macdonald, formerly of Hindon and the Taieri. The adze presents a number of strongly developed and interesting features. The grip is in splendid condition, and the implement itself is triangular in cross-section, and appears to be a marked local variety of the type which is almost universal in the Cook Islands.' [6]

Skinner's classification was formative, but is not in common use now.  Roger Duff published 'A cache of adzes from Motukarara' [7] in 1940, in which he suggested reducing Skinner's ten types to four; each with a number of varieties.  Then in 1945 Duff published "a suggested revision of the standard typology of the adzes of New Zealand, as published by Skinner (1938 and 1943)", [8] which became the accepted reference.
Uncovering Pacific Pasts: Histories of archaeology in Oceania is scheduled to go live on 1 March 2020, when the objects on display around the world and the links between them can be viewed through the website, www.uncoveringpacificpasts.org  
Sources
3: Skinner, H.D., 1923. The Morioris of Chatham Island Memoirs of the Bernice P. Bishop Museum Volume IX, No. 1
4: Buck, P.H., Emory, K.P., Skinner, H.D. and Stokes, J.F., 1930. Terminology for ground stone cutting-implements in Polynesia. The Journal of the Polynesian Society, 39(2), pp.174-180.
7: Duff, R.S., 1940. A cache of adzes from Motukarara. The Journal of the Polynesian Society, 49, pp.285–302
Top Image: Uncovering Pacific Pasts: Histories of archaeology in Oceania logo