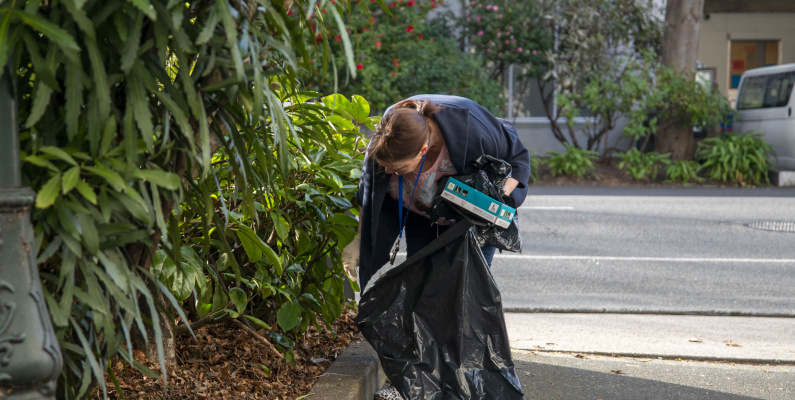 This week, in addition to being Te Wiki o te Reo Māori, is also the Keep New Zealand Beautiful annual Clean Up Week!
This year Otago Museum got into the spirit and went out to our gorgeous Museum Reserve for a 10-minute rubbish bust, assembling on the lawn to gather as much litter as we could find.
Providing a clean space for all the people visiting the Museum and our city is important to us, and we're grateful for all the work that Keep New Zealand Beautiful has done over the last 50 years to make sure Kiwis are aware of the problems that littering can cause.
Image: Litter collected from the Museum Reserve. By Gina Cavanagh © Otago Museum
Mostly we found cigarettes and small pieces of plastic, although there turned out to be pieces glass and bottle tops out there too. These little bits of rubbish might not seem to do any harm, but glass can be dangerous for anyone, and plastic pollutes our waterways, which is bad for all living things. Cigarettes are packed full of chemicals, many of which are toxic. In fact, nicotine, the addictive substance in cigarettes, is actually sometimes used to euthanize reptiles! Using rubbish bins to keep our waste out of the environment is good for us, as well as all the other animals and insects that call New Zealand home.
The Otago Museum is proud to be in a position to act as kaitiaki in our community, both over the taoka in our collection and our environment. We're encouraging you to get your office – or your school, or your friends and whanau – out to collect some rubbish in your areas! It might only be a few minutes, but it's time to take charge of our space – and that's wherever you are!
Top Image: Otago Museum staff cleaning up the Museum Reserve. By Max Levitt-Campbell. © Otago Museum