Reverend Dr Charles Elliot Fox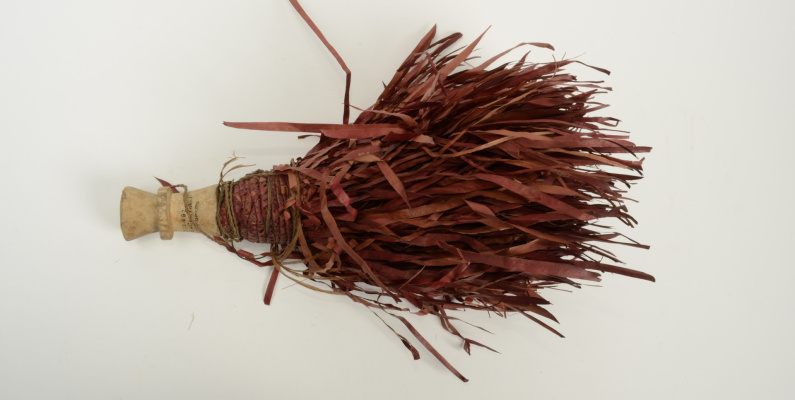 The Reverend Dr Charles Elliot Fox was named in a small list of people who had "generously offered to act as an honorary collector" for Otago Museum in its 1922 annual report. It seems an acknowledgment of the fact that Fox had that year sent the first of several groups of items from the island where he was then living – Makira/San Cristobal in the Solomon Islands – to the Museum.  Objects from that group had formed a single-case temporary exhibition during the year. In total, Fox presented more than 200 items to the Museum, including bowls, fishing floats, worked and unworked stones, shell money, personal ornaments, adzes, fish-hooks, clubs, coconut-shell scoops, spears, and some textile items.  Almost all came from the Arosi area at the north-western end of Makira. 

Photograph (gelatin silver print) of a river scene with buildings on Makira, Solomon Islands, taken by J W Beattie, 1906. © The Trustees of the British Museum 
Fox was born in 1878 in Stalbridge, Dorset, England but his family migrated to New Zealand in 1884. He attended Napier Boys' High School, gained a scholarship to Auckland University, where he graduated in 1901, then went on to study theology at St John's College in Auckland. He was also a talented linguist, and a skilled chess player.  
After a brief period teaching at his old high school, he joined the teaching staff of the Melanesian Mission in 1902 and was ordained the following year.  
The Melanesian Mission was founded in 1849 by the then Bishop of New Zealand, George Selwyn. Its headquarters and training college were transferred from Auckland to Norfolk Island in the mid-1860s. Fox was appointed an assistant master at the Melanesian Mission's school of St Barnabas on Norfolk Island.  He was made games master on arrival, and umpiring decisions when faced with unpredictable events in the school cricket matches feature regularly in his accounts of those years. For his first six months there, he was also in charge of the cooking team – a task that apparently fell to the most recently-arrived staff member – and he had charge of Codrington House – where 30 students boarded.  
His teaching class numbered 40 boys, and lessons were all given in Mota – the language of the island of Mota, in the Banks Islands. It was a language with which Fox was unfamiliar when he arrived, so in 1903 he travelled to Mota, primarily to hear and learn more of it. He eventually compiled dictionaries of (at least) three Solomon Island languages.  

Melanesian Mission pictorial postcard showing the Patterson Memorial Chapel on Norfolk Island. Public domain.
In 1908 Fox met the Cambridge University anthropologist William Halse Rivers Rivers, now better known for his work treating WWI victims of shell shock. Fox wrote that he was then going on his first visit to Arosi (on Makira): "… We were fellow passengers on the Southern Cross as far as San Cristoval, and when he found out that I was interested in, though ignorant of, ethnology, I became his interpreter with the Melanesians on board … He recommended books to me and by the time we reached San Cristoval, I was committed to ethnological work".  
The Southern Cross was the Mission's ship, essential for maintaining contact between islands, institutions, and people.  
After Rivers' return to England, the two men corresponded until Rivers' death in 1922. Encouraged by him, Fox recorded many local tales and traditions, and published a number of papers on his observations. He later wrote The Threshold of the Pacific, based in part on a thesis he submitted for a DLitt, from the University of New Zealand.  
In 1910, Bishop Cecil Wilson asked Fox to start what was to be St Michael's school at Pamua on San Cristobal.  The school began with 20 students but the roll more than trebled during Fox's time as head. He remained there until 1914.  
Henry Devenish Skinner took up his appointment as Assistant Curator at the Otago Museum soon after completing his BA study at Cambridge University, following his discharge from the New Zealand Army after injuries received in WWI. The two men had Cambridge friends in common.  As well as Rivers, both were acquainted with A C Haddon, Sidney Ray, Grafton Elliot Smith, Charles Seligman, and Henry Balfour. Skinner contacted Fox and asked him to collect material from the Solomon Islands for Otago Museum. The material received by the Museum in 1922 and 1923 was a direct result of that request.  
Collecting in the Solomon Islands presented a number of practical challenges, not least packing and transport. Free passage to Auckland was arranged on the Mission ship, Southern Cross. Fox evidently stored items at his own house between ship visits. Addressed to the Museum, C/o The Manager of the New Zealand Clothing Factory in Auckland, carriage further south to Dunedin was arranged free of charge through the business connections of Willi Fels, a remarkable friend of the Museum, then also Chairman of its Management Committee.  

Lime box and spatula which Ben Monongai said had been made by Raraemae, and last owned by Taro ho 'asi. D23.211-2. Gift of Charles Fox; Otago Museum Collection.  
In 1923, the Revd Fox was in New Zealand on furlough, travelling with his Makiran friend and colleague, Ben Monongai, from Heuru, a member of the Mwara clan. In Dunedin they visited Otago Museum and, together with H D Skinner, examined items from the Solomon Islands held there, many of which Fox himself had collected. Fox translated and Skinner transcribed Monongai's remarks on a number of the artefacts seen during that visit.  
Back in the Solomon Islands, in late 1924 or early 1925, Fox took charge of All Hallows School at Pawa on Ugi. It was a large undertaking. Land was cleared on a hilltop and Fox lived there for a month in a small house to test for mosquitoes before more school buildings were constructed. A road was made up the steep hill, and another skirting a swamp behind the beach.  The swamp was drained and used for gardens. Apart from a few isolated gifts, this time seems to mark the end of his collecting for the Museum. He handed charge of Pawa to Revd R Rudgard in 1932, and soon after joined the Melanesian Brotherhood.  
Charles Fox lived in the Solomon Islands for more than 70 years. During the Japanese occupation in WWII he spent time as part of the brave group of coast watchers who helped monitor shipping and planes for the Allies. In 1956, Fox was made Canon of Melanesia. He was awarded an MBE in the same year, and a CBE in 1974 for humanitarian services, particularly in the Solomon Islands. Having retired to New Zealand in 1973, Charles Fox died in Waipukurau in 1977, the year after the Solomon Islands gained self-government, and the year before Independence was granted.   
---
Top image: Described by C E Fox as a charm of areare grass that was "worn on forehead or at back of neck in fighting". D22.682. Gift of Charles Fox; Otago Museum Collection  D22.6 
References
1C. E. Fox, The Threshold of the Pacific (London, 1924), pp. vi-vii