The month ahead @ OM: July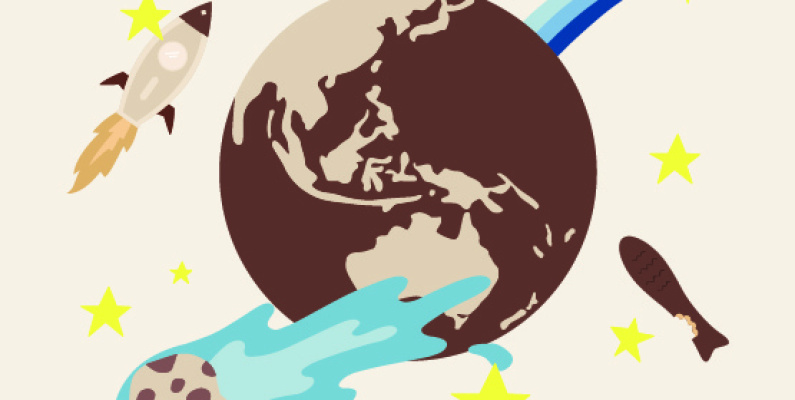 July is the last month to enjoy and say ka kite to Discovery World as we know it! Following the July School holidays it will close for redevelopment, and our highly anticipated new science centre will open at the end of the year with an amazing line-up of 50 new interactives, including a a six metre-high DNA-inspired slide! The Tropical Forest butterfly house will also be closed during this period for a refresh. Read more about the redevelopment here.
The next few weeks will be busy with Dunedin Cadbury Chocolate Carnival events, a new art/science temporary display, expert talks on hot new research, the school holidays, and the buzz of the Discovery Squad kids doing cool stuff round the Museum. (There are now just a few places left in Discovery Squad, so book today to grab one!)
Saturday 1 July – Sunday 30 July: The greatest science show in the history of the world, ever!
This is your last chance to see this exciting show in Discovery World before it closes for the development of the Museum's new science centre. Featuring the greatest hits from the shows, it's spectacular science; not to be missed!
11.30am and 3pm, weekends; daily during school holidays, paid admission
Saturday 15, Monday 17, Wednesday 19 and Friday 21 July: Sense-ational chocolate science show
Attention chocoholics! This show is full of wow-factor – a chocolate cloud, a chocolate river coming from a melting glacier of chocolate, chocolate's explosive power, and instant chocolate ice-cream!
2pm, Saturday 15, Monday 17, Wednesday 19 and Friday 21 July, Hutton Theatre, limited numbers, please receive a ticket on entry at the theatre door, free
Sunday 16, Tuesday 18 and Thursday 20 July: Fruits of the forest fondue
Dip into the Tropical Forest for a science show, finding out about tropical treats and their journey to New Zealand, and then indulge in a fruity chocolate fondue.
2pm, Sunday 16, Tuesday 18 and Thursday 20 July, Tropical Forest, included with your DWTF admission
Saturday 15 – Sunday 23 July: Giant jaffa rolling ball sculpture
This will be a sweet sculpture that all young visitors will enjoy creating. They can add pieces to the track, then send the Jaffa balls rolling down to see where they end up. And then they can try the Chocolate mmmysteries gallery trail solving the cocoa-themed clues hidden throughout the Museum to complete the trail and claim a tasty reward.
Throughout the day, Saturday 15 – Sunday 23 July, Atrium Level 1, free
Monday 17 – Friday 21 July: Cacao bean gene detectives
Kids can join forces with our team of DNA detectives as we decode and build the genetic sequence of cacao beans with the help of Cadbury pebbles.
11am–2pm, Monday 17 – Friday 21 July, Atrium Level 1, free
Saturday 8 – Sunday 23 July: Humpback Whales
This amazing Planetarium Show gives audiences an up-close look at how humpback whales communicate, sing, feed, play and take care of their young. Find out why they are the most acrobatic of all whales, why they sing their haunting songs, and why these intelligent animals migrate on a 16 000 km round-trip every year.
10.30am and 1.30pm daily, Saturday 8 – Sunday 23 July, Perpetual Guardian Planetarium, paid admission
Thursday 20 July: The Otago Institute presents... What's hot?
With nibbles and cash bar available, this will be a great evening hearing from experts what's at the forefront of research in neuroenocrinology, virtual reality, writing (with AI), and the medical humanities.
5.30, Thursday 20 July, Hutton Theatre, free
Saturday 15 – Sunday 23 July: Discovery Squad July School Holiday Programme
For stimulating and educational holiday fun and excitement, Discovery Squad offers awesome themed activities. Some of the topics to be covered include darkness, the science of light and colour, geometry, languages, chocolate, pottery, puppetry, animals and being Curator for a day. Kids love Discovery Squad – for a half-day, a day or a week, it's a fantastic way to spend the holidays.
Weekdays during the school holidays, 8.30am–1pm or 1pm–5.30pm; Monday 10 to Friday 21 July, paid admission

Tuesday 4 – Sunday 16 July: Art and Genetics
In this temporary display in the H D Skinner Annex, artists from the Dunedin School of Art have been working with University of Otago scientists to develop visual material relating to concepts of genetics that stem from their creative exchange of ideas. This is run in association with the Genetics Society of Australasia conference.
10am–3pm, Tuesday 4 – Sunday 16 July, H D Skinner Annex, free

Sunday 30 July 1pm: Dunedin Rock Choir
Playing everything from Adele to David Bowie, and Lorde to Bruce Springsteen, the Dunedin Rock Choir will feature at Live @ OM. Join us to rock your winter blues away.
1pm, Sunday 30 July, Atrium Level 1, free
Check out our what's on page for bookings and more information on these and other things to see and do at Otago Museum.