INTRODUCING OUR FRONT OF HOUSE TEAM: Q & A WITH THE FACE(S) OF OTAGO MUSEUM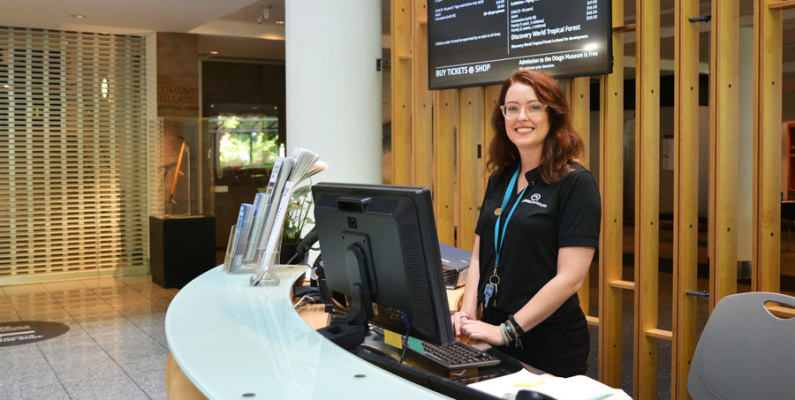 Introducing Front of House Officer Emily, who has been welcoming visitors to Otago Museum and inspiring them with her passion for Anthropology for the last two years.
What do you love about your job?
Meeting a wide variety of people while at the Info Desk. Both locals and tourists visit the Museum, all with different stories, interests, and backgrounds. I enjoy promoting our Museum, and helping them identify galleries of particular interest to them. My favourite times are when I am able to really talk to visitors on quieter days, as sometimes this can lead to deeper connections and conversations.
What's your favourite gallery and why?
I especially like the Pacific Cultures gallery. The Pacific Islands are fascinating – there is so much cultural variation between them, and yet similarities that connect them. The gallery houses many artefacts, ranging from Polynesian tools to Melanesian ritual masks (which are my favourite).
Do you have a favourite collection item?
It's the Sri Lankan mask in the People of the World gallery – you'll know it when you see it! It's a huge colourful mask with many faces on it. Historically it was used in rituals to ward off illnesses, and each face represents a different illness. Take a look and see if you can identify which is which!
If you could make anything in the Museum come to life, what would it be and why?
I would make the albatross come to life, as I think it would be an impressive addition to the Museum flying around the galleries.
If you were locked in the Museum overnight, what would you do?
I'd sneak into the Café and eat all of the delicious chocolate that they put into their chocolate caramel slices, hot chocolates and chocolate brownies.
What do you tell visitors not to miss?
Try not to miss ANY of the galleries! Each is unique and interesting, and combined they provide an excellent representation of local and global cultures, and of Otago's history and natural environment. But if you're really pressed for time, I'd recommend heading straight up to Animal Attic, it's a family favourite!
If you see me in the Museum, ask me about:
Anthropology! It's the study of cultures, both old and new. It teaches us a lot about what has already been; and yet being able to observe our own culture from within, and recognise our assumptions and biases, is crucial to creating a better future.