est. 1868: A Champion Gladioli Grower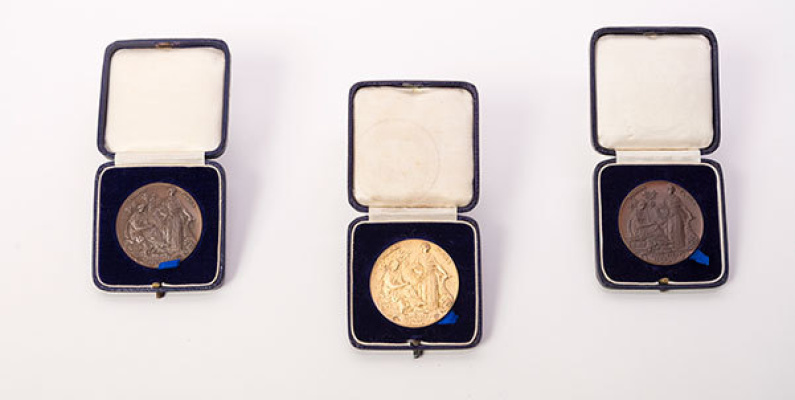 James Stuart Miller grew up in Broad Bay, on the Otago Peninsula. In the 1920s he, his sister Helen, and his brother Allan, were all dux of Broad Bay School in their turn.  
James Stuart's father was also named James Miller. This might be why, as his nephew, James Johnston remembers, J S  was known as Stuart growing up. He and his father both competed successfully in local horticultural shows. J S grew prize-winning narcissus and daffodils, but it is his gladioli that were most often reported in the press.  
Three of the Dunedin Horticultural Society medals he won for champion gladioli are on display in the quirkiest section of est. 1868. They are there because ever since Australian diva Dame Edna Everage claimed, "the gladiolus is my lucky flower" [1] it has been hard to see them apart from her mauve hair and architectural spectacle frames. 
In the inter-war years, however, things were completely different. The "vibrant horticultural atmosphere" when "people queued in the rain for local flower shows" [2] led to specialist growers producing "bigger and better" hybrids after WWI. As a Herald column noted, "Gladioli makes a most gorgeous display during summer. One can get now such exquisite colours, and such enormous spikes of bloom". [3]
1931 marked the Dunedin Horticultural Society's 50th anniversary. Their jubilee show in February was an important event, opened by Sir Thomas Sidey, the Attorney General. The Otago Daily Times reported: "In all sections the blooms reach a commendably high standard, but nothing makes a better showing than the gladioli, the variety of shade and tone in which cannot fail to excite the greatest admiration". [4] J S Miller won "premier gladiolus in show", as well as many other categories in that section.  
Two years later, the Evening Star proclaimed that among "probably the keenest competition in New Zealand", at the Canterbury Horticultural Society's flower show, J S Miller had "carried the banner of Otago high, by winning six firsts and four seconds in the gladiolus section, also annexing the "blue ribbon" of the show for championship". [5]
In 1934 he was photographed wearing a striped blazer, holding his gigantic "premier gladiolus bloom Hakawai", [6] grown from a seedling, at the Canterbury Horticultural Society's show for that year.
But it was all too brief. Enlisting in WWII, James Stuart Miller travelled to Canada for his Royal New Zealand Air Force training. He was a Flight Sergeant Navigator in 75 (NZ) Squadron when his Lancaster was shot down over France in June 1944, returning from a bombing mission. He died, aged 33. 
est. 1868 is open daily in the Special Exhibitions Gallery, 10am to 5pm, until 14 April 2019. Entry is free.
---
[2] Colin Jamieson. 2015. "Gladiolus × brenchleyensis: A near-extinct relic of Great Britain is rediscovered in New Zealand". New Zealand Garden Journal, Vol. 18(1) p.6.
[3] New Zealand Herald, 10 January 1929:11.
[4] Otago Daily Times, 26 February 1931:7.
[5] Evening Star, 4 February 1933:11.
[6] Evening Star, 1 March 1934:23.
Top image: Prize-winning gladioli medals. Awarded by the Dunedin Horticultural Society, 1930s. Gift of Noeline Pocklington; Otago Museum Collection. F2008.7, F2008.11-12. By Kane Fleury © Otago Museum.