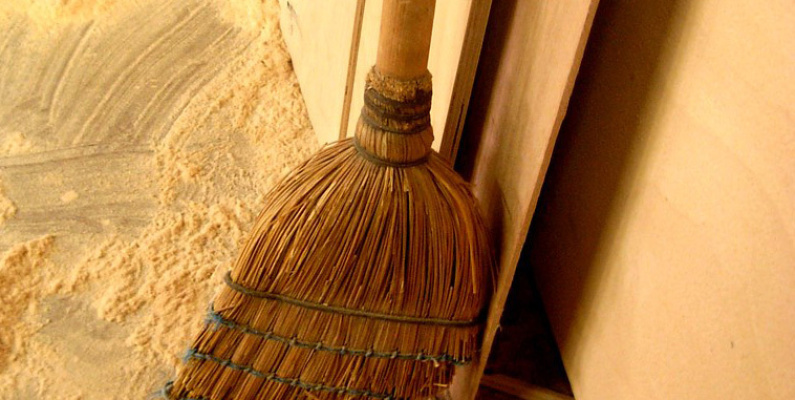 The second of October is Custodial Worker Day, so to celebrate this, Moira White, our Curator, Humanities, will tell us a little more about one of Otago Museum's former employees, William Goodlet.
William Goodlet came from Mataura. He must have been in his late teens when he was appointed laboratory assistant to Professor James Gow Black in the University of Otago's Chemistry Department in 1877.
He accompanied Black on lecture tours to mining centres, gaining a reputation as a mineralogist, and was separately employed by Richard Seddon (when he was Minister of Mines) to offer instruction and information to miners on the West Coast of the South Island. In Rimu, in 1894, he discovered a ruby-bearing gemstone, which was named after him – Goodletite.
He was evidently a popular figure on campus, known to enjoy the fun of capping carnivals, what we know now as graduation. The University Students' Association presented him with a cheque in 1896 when he married Lucy Tanner, and he was invited by some of them to contribute his reminiscences when the University celebrated its jubilee.[1]  In 1898, however, Goodlet resigned from the Chemistry Department. Dr Thomas Hocken, a University of Otago Council member was reported to say he thought he had been "scurvily treated". Goodlet's next job was with the Otago Daily Times, where he remained until 1911. On his departure from the ODT stereotyping department, he was presented with "a case of pipes, a silver matchbox, and a tobacco pouch." In what we might now consider an ironic response, his thank you speech noted that "his health had induced him to seek a new position".
That new position was as the Otago Museum's janitor. Here, he succeeded Arthur Busby, who had been briefly employed when James McKenzie left in 1910. In Goodlet's first year, William Benham, the Curator of the Museum, said, "I find him industrious and willing. He is proving an excellent man for the position". In 1913, Benham reported, "The janitor has kept the whole museum in a state of thorough neatness and cleanliness, and has made himself useful, both in giving information to visitors about the exhibits and in other ways".
Goodlet maintained his interest in chemistry during his years at the Museum. In 1914, he gave a lecture to the Hope of Dunedin Lodge where he "not only explained the nature of the different gases and their dangers, but produced them with some startling effects, by explosions, etc... Mr Goodlet is a most interesting lecturer, interspersing his experiments with humorous incidents which occurred while lecturing on the West Coast". It was one of many such talks and demonstrations he gave in various community spaces including, perhaps appropriately, the old Fire Brigade Station.
During WWI, the Dunedin press reported Goodlet's comments on the weaponised gases which marked the advent of chemical warfare, and the use of which, he described as diabolical. It is probably safest not to comment on his apparent suggestion that "chloroform inhalation, also a glass of good whisky" might (even partially) counteract the effects of chlorine gas. [2]

Goodlet also took a special interest in the live tuatara that was kept at the Museum in the 1910s. He gave talks and interviews on tuatara, and was said to be thinking of writing a book on the subject. He also advocated having Stewart Island/Rakiura made into a bird sanctuary, and spoke publicly against the protection afforded stoats and weasels by the Rabbit Protection Act of 1881, and was reported to have said "they were more partial to birds than to rabbits". [3]

Image: 'Tuatara and its egg'; Otago Museum postcard.  Otago Museum Collection.
In 1924 Benham said "The janitor, Mr Goodlet, carries out his work of keeping the galleries swept and tidy, and the outside of the glass cases polished to my satisfaction. He has a good control over children who may be inclined at times to be noisy". The following year, Benham noted Goodlet had "assisted in the sale of the picture postcards with avidity; indeed, without him I do not see how the sales could be carried out." In 1926, he added that, "he keeps me informed of any leaks or structural defects in the building".
William Goodlet retired from Otago Museum in 1929. He died in 1940 and the tributes were many and varied. The Otago Daily Times and Evening Star both had obituary articles. The University council noted his passing. An Auckland Star article was headed "Varsity character". The Lake Wakatip Mail said he "had a rare gift of picturesque speech" and, at the Museum, "could talk for hours to visitors on anything concerning the University and its professors".[4]
William and Lucy Goodlet are both buried in Dunedin's Northern Cemetery. 
Sources 
[1] Otago Witness, 2 March 1920: 21
[2] Otago Witness, 16 February 1916: 3
[3] Manawatu Times, 8 March 1924: 4
[4] Lake Wakatip Mail, 27 February 1940: 4