est. 1868: A Performance of Puppets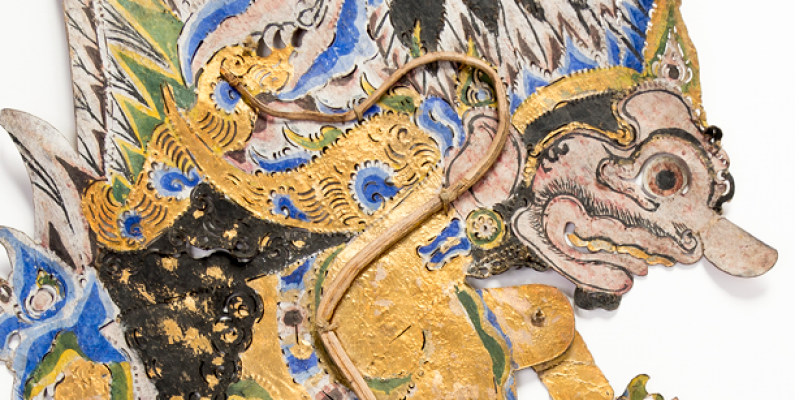 When Johannes Schoon and his family moved to New Zealand from Indonesia just before WWII, they packed some physical reminders of their previous home to bring with them.
These included three wayang kulit figures: elaborately decorated, flat shadow puppets from a centuries-old theatre tradition that originated in Java. Wayang puppet theatre was added to UNESCO's Representative List of the Intangible Cultural Heritage of Humanity in 2003. 
Individual puppet figures are made from leather, painted on both sides, and have a central supporting rod and articulated arms. Each is portrayed with its own hairstyle, costume and jewellery.
In public performances, dalangs – the puppetmasters – manipulate these ornate figures behind backlit white cotton screens. The audience, on the other side of the screen, sees a cast of shadows acting out battles between good and evil, using the subtle gestures of characters from classic dramas. More than 50 individual puppets might appear in a single complex performance.
The dalangs are also the narrators, speak for the characters, and coordinate the gamelan musicians. Most storylines involve Javanese versions of the Hindu Ramayana and Mahabharata epics, but local stories are also told.
Today, electricity, television and contemporary lifestyles are all having an impact on the wayang tradition. While work goes into protecting it, developments are also occurring. Eight-hour night-time performances are not as common as they once were. Early this century, one well-known Javanese puppetmaster chose to set up his stage so that audiences could see him at work, operating the figures, with a partial view of the shadows on the screen. 
More recently - in 2017 - a group of Australasian scientists and musicians drew on the wayang kulit tradition to make a short film, Rama and the Worm, [1] as part of a health promotion campaign in rural Java.  
Figures that have never played a role on stage are also purchased as souvenirs by contemporary holidaymakers in Indonesia; recommended in the "What To Buy" section of some travel websites. Just as when the Schoons moved to New Zealand, wayang kulit figures are seen as distinctively and uniquely Javanese; easily identified and able to summon a memory of the island.
The wayang kulit figures are currently on display in the Special Exhibitions Gallery as part of our est. 1868 exhibition.
---
 [1] https://www.odt.co.nz/news/dunedin/puppet-movie-educate-children
 Images: Wayang kulit shadow puppet figures. Indonesia, estimated first half of the 20th century. Gift of J Schoon; Otago Museum Collection. D41.403-5. By Kane Fleury © Otago Museum.